In recent twitter news, a Beyond Meat employee was caught using homophobic words to promote their "vegan" products (the orginal tweet was screen capped on Gay Fat Vegan's blog and has been edited to preserve the identity of the tweeters).
Note: I sometimes use scare quotes around the word vegan because vegan does not just mean "products free of animal flesh and product"; rather, vegan refers to products produced by companies who promote vegan principles of compassion and justice.
When Beyond Meat was publicly criticized for this act of homophobia, they immediately issued apologies on *twitter* while reminding their "fans" that their business is "founded on love and acceptance."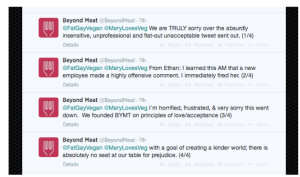 One blogger, Fat Gay Vegan, writes that the apology from Beyond Meat was "sincere and heartfelt" and that "If they [Beyond Meat] are guilty of anything, I believe it is outsourcing or not keeping a tight enough hold on their social media" (Fat Gay Vegan's Blog).
Unlike this blogger, I find that this event demands further critical examination, especially since this event brings to light a re-occurring phenomena in the world of vegan consumption: when "vegan" companies emerge, or companies that offer "vegan" products, vegan consumers often assume that these companies can do no harm. After all, they are vegan so they must be ethical, right?
I beg to differ.
We cannot forget that most "vegan" companies have one primary goal: profit. The last I checked, Beyond Meat is a for-profit business that does *not* donate its profit to animal advocacy organizations. Furthermore, as far as I can see, they do not donate or plan to donate *any* of their proceeds to any animal liberation organization (and if they do, they do not find this important enough to mention on their website). They do, however, boast about promoting awareness of animal abuse in agriculture and environmental degradation, yet, sadly, the only "education" they offer on their website pertains to their own products and goals.
What should give vegan consumers even more reason to be suspicious of this company is that Beyond Meat is considerably incompetent when it comes to the animal liberation movement, as evident by their recent twitter interaction with Carol Adams (photo credit to Fat Gay Vegan), who they congratulated for "just going vegan."
Clearly, Beyond Meat is not a company that is genuinely engaged in and dedicated to the animal liberation movement.
So what is Beyond Meat? It is a for-profit company with high-profile investor-capitalists like Bill Gates and venture capitalist powerhouse Kleiner Perkins Caufield Byers who are eager to cash in on the vegan movement. Beyond meat has an executive team that consists of four men, none of whom have a degree or experience working in animal ethics (or ethics in general):
Ethan Brown: "previously worked eight years at Ballard Power Systems, the world's leading PEM fuel cell company"
Brent Taylor: "served as a partner in a vegetable seed technology start-up and has several years of management experience in agriculture/food as a Senior Analyst – Corporate Development, at Dole Food Company, Inc"
Bob Prusha: "has 30+ year veteran in Manufacturing"
Tony Prudhomme: has a "career in finance, operations and general management executive for consumer products companies, including fresh food giant Dole Food Company"
These four men use technology and science to create and sell non-organic faux chicken at costs so high that the majority of Americans cannot afford to purchase their products (a small container usually sells for $5.79). While technology is not always bad, we should be reluctant to use it as a first-response solution to ethical problems, since technology often promotes masculine values and the manipulation of nature. Furthermore, since capitalism is, in- and- of- itself, a system of exploitation, we should remain suspicious of any attempt to "fix" the problem of the exploitation of animals and the environment within a system that is inherently individualist, competitive, and exploitative.
Beyond Meat, thus, operates under the capitalist system that prioritizes technology. It is a company that uses technology to manipulate nature (plant protein) into a "masculine" food which resembles animal flesh (which they refer to as "brotein") and is available only to priviliged consumers. We see, once again, a male-dominated company which is determined to control and "fix" the world by using machines to manipulate nature itself. Capitalism and technology: score again!
Keeping in mind that Beyond Meat is a for-profit company that promotes masculine goals and there is little evidence that this company is ethically competent, we should not be surprised when we see its employees spouting off insensitive, homophobic twitter posts in an attempt to promote their products. After all, profit-driven companies are less likely to consider the ethical competence of their employees and will hire the cheapest labor possible without considering that it should hire someone who is both genuinely concerned with transforming the world into one of love and compassion and competent when it comes to ethical considerations.
What we can take away from this event is the following: companies which produce and sell "vegan" products are not off limits from moral criticism; a number of these companies are motivated by capitalist goals and exploit the moral principles of consumers in order to obtain these goals, while counting on the likelihood that they can get away with any "moral mess-up" by reminding consumers of their "compassionate" and "loving" foundation. Keeping this in mind, we must remember that we should not hesitate to be critical of self-proclaimed vegan companies and we should not be silent when they act unethically just because they are supposedly "helping animals." For instance, many companies that sell vegan products, like So Delicious, contribute extensively to environmental degradation since they do not sell their yogurts in large containers, but rather, require consumers to purchase their products in individually packaged, plastic containers. While my mouth is the first to water at the prospect of vegan yogurt, I cannot forget that the way they package and sell their products is highly wasteful and hurtful to the natural world about us.
While it is next to impossible to purchase and consume products that are produced in a completely ethical way, what we can do is hold companies accountable for their moral transgressions. What we can do, is demand for Beyond Meat to issue an official apology to the GLBT community. What we can do, is request that Beyond Meat employ individuals who are familiar with the animal liberation movement and what it really means to be a vegan.
***As a side note, I urged Beyond Meat to issue an official apology; in response, I was directed to a blogger who is not in any way associated with the company. This, of course, is their attempt to avoid publicly and officially addressing the issue themselves.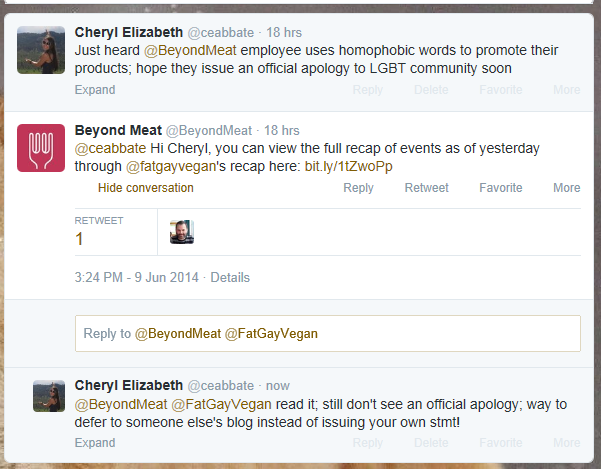 Written by Cheryl E Abbate
Philosophy PhD Student at Marquette University
Follow her on Twitter and through the Vegan Feminist Network on Facebook