May is Asian History Month in Canada and Asian-Pacific American Heritage Month in the United States. Vegan Feminist Network celebrates this history with a spotlight on Asian-Pacific and South Asian activists doing amazing work for other animals across the world. Nurturing the diversity of anti-speciesist activism is a vital component of a robust and effective social movement.
The purpose of this project is to spotlight the amazing accomplishments and leadership undertaken by Asian women of color in the Nonhuman Animal rights movement. Celebrating diversity is important as a strategic matter, but also as an ethical one. While women of color have been contributing considerably to the advancement of Nonhuman Animal rights, their presence is often diminished or erased. This project seeks to bring visibility to this community.
That said, VFN does not necessarily endorse or condone some theory or strategy associated with activists who are documented in this series. VFN has also not verified whether or not spotlighted individuals are vegan in the political sense (everyone's definition of "vegan" varies). Vegan Feminist Network takes a strong stance against welfare reforms, single-issue campaigning, reductionist approaches, and pro-capitalist strategies.
See also 365 Vegan, an in-depth video series documenting vegans of color in India and Hong Kong.
---
Jamie Yew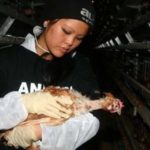 Active with Animal Rights Victoria in Australia for many years, Yew was on the frontlines of public protest and open rescues. Yew reports to CLEO magazine in 2008 that her activism is intersectional. In addition to identifying as "female and ethnic," she explains, "I came from a lower socioeconomic background and was homeless when I was 13 years old, so I've seen my fair share of social injustice and inequality. I feel I have a moral obligation to fight against oppression and exploitation of humans and animals. I've always been a fighter. I can't remember when I've ever backed down from anything."
Sarah K. Woodcock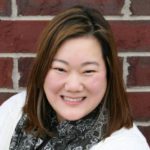 An adoptive Korean-American, Woodcock has been active in social justice for most of her life. In 2013, she founded The Advocacy of Veganism Society, supporting anti-reform, pro-intersectional justice efforts across the globe. She also launched Whyveganism.com and operates a number of online social justice spaces on social media.
Hitomi Tsuji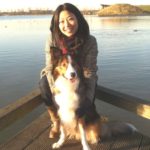 Tsuji is the co-founder of Animal Rights Japan, a Dutch organization seeking to improve the status of other animals in Japan. Tsuji's activism is informed from an intersectional awareness. She writes: "The Japanese government lets people reside in high-radiation areas without informing them and lets these cruelties happen to so many animals. It is obvious we can't trust the government to do something. This is why I want to take action myself from here."
Seiko van der Stok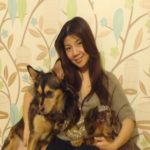 Van der Stok is a Japanese Dutch woman who co-founded Animal Rights Japan, a Dutch organization seeking to improve the status of other animals in Japan. Her dream is to abolish Nonhuman Animal use and establish a no kill system. She writes, "All animals including domestic animals have the right to live without suffering. In Japan, although the number of dogs and cats that are killed is decreasing every year, it seems a long way to go to Zero killing."
That Vegan Thai Girl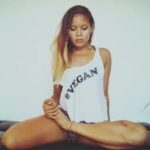 Immy is a vegan body builder and personal fitness trainer based out of Bangkok. Once a social media personality, Immy has since left the public space, but you can watch an interview with her on fitness and plant-based eating here.
Wanqing Zhou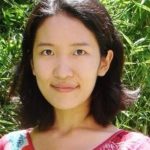 Zhou is an academic activist associated with the Worldwatch Institute and the Chinese organization Brighter Green which brings awareness to Nonhuman Animal welfare issues and environmental destruction from speciesist agriculture in China. In an interview with Our Hen House, she explains her approach: "We have collaborated with local and international environmental groups, media and communication companies, local community governments, vegetarian associations and restaurants, and business clubs. […] The attendees come from all educational and cultural backgrounds – from illiterate villagers to graduates from top universities, both Chinese and foreign-born."
Ani Phyo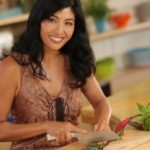 Phyo is a vegan nutritionist and cookbook author. She has promoted her raw plant-based recipes on Dr. Oz and also certifies other entrepreneurs on raw food cooking. You can try some of her recipes for free on her website.
Chetana Mirle, Ph.D.
Dr. Mirle is the Director of Farm Animals for Humane Society International and a published academic. She has been active in reforming Nonhuman Animal agriculture in India, and mainstreaming concern for other animals in public and academic spaces there. While Mirle is pro-animal use in her support of reforms, she is intersectional in her approach, as some of her research also investigates how agriculture impacts poor rural communities in India.
Kyenan Kum
Korean-born American Kyenan Kum established the first Korean Animal Protection Law and founded the International Aid for Korean Animals (IAKA). Kum has been particularly active in combating the growth of dog and cat flesh industries in Korea. An accomplished artist, her activism shapes many of her paintings: "I feel that all kinds of animal and plant life are an integral part of me and of our earth. Therefore, I hope that expressing their existence and spirit through the process of painting will help me in my life to move towards growth, balance, and nurture."
KaeLyn Rich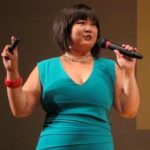 An American queer Korean adoptee, Rich is a speaker, activist, and author who has written with Autostraddle and Everyday Feminism, while also running the blog, Queer Family Values. She specializes in reproductive justice and vegan-inclusive intersectional feminism.
Yen Wong
Wong is a makeup artist and vegan activist who owns and operates a vegan nail salon in Montréal.
Vaishali Honawar
Honawar is a Mumbai-born vegan food blogger for Holy Cow! based in Washington, D.C. Many of her recipes are Indian or influenced by her Indian background. Honawar credits her adopted dog Lucy for turning her vegan: "I had been a meat-eater all my life, but loving her made me realize that in the end, there really is not much of a difference between a dog and a cat and a lamb and a cow or even a chicken. They care for their lives just as we do, and protect it as fiercely. We really have no right to take it away from them when we don't need to."
Sunnie Lee Watson, Ph.D.
Dr. Watson is an academic researcher and the co-administrator of Vegan 8 Korean, a vegan blog offering veganized Korean recipes and cultural reports. She and her partner report: "Ultimately, we became vegetarian because of our rejection of factory farming, and the realization of the inherent cruelty in the dairy industry and its connection to veal led us to commit to becoming vegan."
Aysha Akhtar, Ph.D.
Dr. Akhtar is a double Board-certified neurologist and preventive medicine/public health specialist who promotes veganism as a matter of Nonhuman Animal welfare, human health, and sound science. Dr. Akhtar is a Fellow of the Oxford Centre for Animal Ethics and is also a regular blogger for The Huffington Post.
Long Kuan
Kuan (a.k.a. the Lohas Queen) is a Chinese vegan activist and former pop-singer. In an interview with Public Radio International, Kuan explains how her veganism has grown to include an environmental consciousness: "It started when global warming was a big issue, and I looked into a lot of information about food's impact on the environment. I didn't know anything about it before. I was just loving the animals and didn't want to eat them." You can watch her eco-vegan videos on her Youtube channel.
Du Yufeng
Du Yufeng is the founder of Bo Ai Animal Protection Centre in Guangyuan, Sichuan, China. She has closed down many slaughterhouses, restaurants and shops. Yufeng's shelter formed in response to a 2008 earthquake, after which the government had hoped to kill stray dogs. She credits her single-parent father and her childhood nonhuman companions for inspiring her love of other animals.
Sasha and Gin
Founders of About Animals, Sasha and Gin operate a vegan restaurant and gift shop in Taiwan. These owners also work with children, bringing anti-speciesist lesson plans into the classroom. Their outreach is intersectional as well, as the store regularly promotes gay rights and other social justice issues. Image from Boundingoveroursteps.com.
Kimberly Lo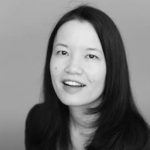 Kimberly Lo is a yoga instructor and freelance editor & writer based in Charlottesville, VA. In her spare time, she enjoys needlework, travel, and photography. She regularly blogs for Elephant Journal on vegan living and feminism.
Anushree Kamath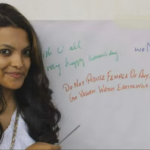 Kamath is a vegan entrepreneur in Bangalore who believes she can save Nonhuman Animals with tasty, affordable vegan food. She regularly engages anti-speciesism protests in communities and vegan education in local schools. In a 365 Vegans interview, she acknowledges that going vegan can be difficult, but she also insists, "Think about the victims. […] That will keep you driven enough to be vegan a long time."
Brinda Poojary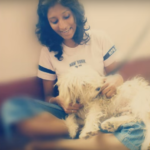 Poojary is a vegan activist in Mumbai who engages heavily in public vegan campaigning and disruption. While she finds this activism scary, she insists in a 365 Vegans interview: "You have to be an activist if you are vegan, otherwise you're just doing it for yourself. Veganism is not about you and me, it's about…it's a social justice issue. It's about the fundamental right that every animal should be free." Her activism is intersectional, and she incorporates an awareness to (and lived experience with) casteism and colorism. In an interview with DNAIndia, she states, "Like sexism, casteism, colourism and racism have to be eradicated, speciesism, too, needs to be rid of."
Sneha Mahimane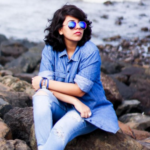 Mahimane is an Indian blogger who operates a blog known as Vegan Fixin's covering vegan food, culture, and travel. She writes, "I'm here to tell the people how adapting a vegan life, is beneficial to all the species and to our planet. People with broader perspective and who wouldn't mind to give a thought about it are most welcome with their doubts and questions."
Pauline Meneze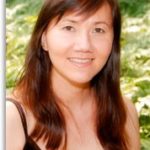 Menezes is the honorary secretary for the Vegetarian Society of Singapore. She has been vegan and VSS volunteer since 2008, applying her education in vegan nutrition and mass communication. In an interview with Singapore newspaper The Straits Times, she posits, "I don't think I can reverse climate change, but by not eating meat I like to think I'm doing my small part to help." Menezes also advocates for healthier vegan options. In a later interview, she notes: "It is quite dismal that vegetarian options there are unhealthy fried bee hoon and mock meats. I hope hawkers can offer less fried foods and more wholegrains and unprocessed foods."
Ashley Chow
Chow, a vegan and student of law, acts as the educational coordinator for the Vegetarian Society of Singapore. She engages the public through talks, food demonstrations, and educational tours. In an interview with SG Asia City Online, she explains:  "I realized through interacting with many Singaporeans that there is a growing collective consciousness about the tremendous health benefits of a plant-based diet, the destructive environmental impact of meat production and the horrors of factory farming, especially in the young generation. While many people are able to sympathise with the vegetarian or vegan cause, they are reluctant to try to change their diet because they think it's difficult or impossible. There are also many people who have tried to change their diet but have failed to do so successfully. So I decided to start the program to show the participants—and Singaporeans generally—how fun and easy it can be to adopt a veg diet for a sustained period of time."
Richa Hingle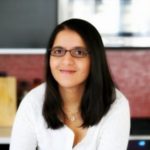 Hingle is a disabled and prolific vegan cookbook author famous for veganizing favorite Indian dishes and sweets. Her work has been featured on Oprah.com, The Huffington Post, Glamour Magazine, and many more. She donates a portion of her book proceeds to Nonhuman Animal charities in India. She writes, "I realized I couldn't directly or indirectly cause extreme suffering and death of any other animal or human when there are alternatives. […] Animals are sentient, self-aware, and capable of experiencing both pleasure and pain. They deserve our respect and deserve a natural life and freedom. We choose less cruelty and we do it all without sacrificing taste, habits and pleasure. […]" Hingle believes that her work will, "prove, that [with] any food choice, [it] is not about giving up something, it is about finding something better."
Marilyn Cornelius
Cornealius is a climate change specialist who advocates awareness to veganism in environmental politics. She specializes in sustainability behavioral science, but she is also a vegan cookbook author in the area of Fijian-Californian cuisine. She operates the blog Life, Love, V which covers vegan recipes and culture.
Sonia Chauhan
In addition to her academic work and bunny rescue efforts, Chauhan is an anti-reform, pro-intersectional Indian American activist. In 2016, she launched the Facebook page South Asian American Vegans to promote Indian visibility in vegan spaces. She is also active with The Advocacy of Veganism Society and is a regular host on Under the Toadstool, a pro-intersectional vegan feminist podcast.
Nandita Shah, Ph.D.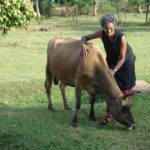 Dr. Shah is a registered medical doctor based in India who is the founder and director of SHARAN, an organization that puts nutritional expertise in the service of public health (and anti-speciesism). She has lectured widely on the links between Nonhuman Animal liberation and human health, and her organization staffs a large panel of vegan experts, most of whom are also Indian women of color.
Katrina Paola Lugartos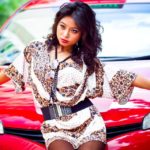 Lugartos is a Filipino vegan living in Singapore. Lugartos is a multi-faceted activist who speaks to the media, participates in protests, and even sings in a band wearing vegan shirts. In an interview with SG Vegan, she explains: Being vegan, especially if you're in Manila, could raise a few eyebrows. People will think that you are squeamish. That or they'll tell you flat-out that you are finicky. […] Vegans are not weak because we love and care for animals. You know what is weak? Giving in to the taste of meat just because you and you think that might makes right."
Maz Valcorza
Valcorza is an Australian-Filipino yoga instructor and restaurateur. She is also a vegan cookbook author and gives public talks and food demonstrations. In an interview with Casa de Karma she exclaims, "I love making vegan versions if my favourite traditional Filipino dishes or just party favourites like pulled jackfruit tacos which is so much like pulled pork I challenge you to tell the difference."
Anami Nguyen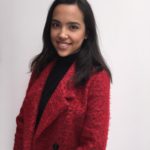 Anami is a Vietnamese-Polish German student in New York. She studies finance, management and animal studies at NYU. Anami grew up in a quite homogeneous German city, Munich, where her Vietnamese and Polish heritage was an unpleasant point of difference and often mocked and belittled. Since moving to New York, she has learned to love and celebrate her cultures and encourages others to do the same. Out of these experiences grew Vegans of New York, which aims to counter stereotypes and paint a more accurate and diverse picture of veganism. Anami also leads the NYU Animal Welfare Collective together with an amazing team of intersectional vegans. She writes about business and ethics at anaminguyen.com.
Aubry Walch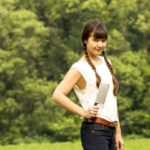 Walch is the co-founder (along with her brother Kale) of The Herbivorous Butcher, America's first vegan "butcher's shop" which was launched by a highly successful Kickstarter campaign. A long-time vegan, Walch developed a number of meat-free alternatives to many the foods that she grew up with on Guam.
Mei Brunson
Bruson is a Japanese-born, half-Japanese biracial activist who is president of the pro-intersectional student organization Campus Animal Rights Educators. Bruson explains, "We strive to support diverse student movements fighting the various forms of systematic injustice through coalition-building and solidarity work." She is also active with the Food Empowerment Project.
Doris Lin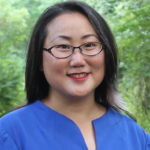 Lin is a Nonhuman Animal rights attorney, the Director of Legal Affairs for the Animal Protection League of New Jersey and a member of the steering committee of the League of Humane Voters of New Jersey. Lin has worked for a variety of anti-speciesism and protection groups and is also a columnist for About.com as an expert on Nonhuman Animal rights.
---
We certainly welcome readers to nominate themselves or other Asian-identified vegans of color who would be appropriate here. Please send a short biography, high-resolution image, and any links to websites or social networking profiles to info@veganfeministnetwork.com.
Please understand that research for projects of this kind can be difficult and imprecise. If you are familiar with an activist spotlighted in this series and are aware that they are not vegan, please email us at info@veganfeministnetwork.com with appropriate references so that we can ensure this series is as accurate as possible.
If you are included here and you wish to be removed, please email us at info@veganfeministnetwork.com and we will remove you immediately.