In my research on the phenomenon of sexualized veganism, I have noted that veganism poses a threat to anthroparchal power in a speciesist society and is thus vulnerable to sexist repressive efforts. Despite decades of stigmatization and discrimination, veganism has nevertheless persisted. Some of this persistence is a result of capitalism's co-optation of veganism. Capitalism has effectively transformed a social justice movement into lifestyle consumerism. Emphasizing the gender politics of plant-based products helps ease a radical resistance movement into the marketplace. Sexualized vegan advertising, in particular, effectively pulls on gender stereotypes, sex, and careless consumption to sell a disempowered, consumer-friendly "veganism."
Consider the American chain restaurant Red Robin. In an advertisement for its large variety of burgers, it makes special mention of its newly available Garden Burger. Speciesist industries will often greenwash their branding in order to avoid critique of other, less sustainable products on offer. Adding a token vegan item, however, is also important for ensuring that one dissenting consumer will not prevent a larger group of speciesist consumers (i.e. their family or friends) from choosing that brand. Companies are thus in the tricky position of needing to accommodate vegans without repelling speciesists. 
Sex depoliticizes. Red Robin's ad, for instance, specifically draws attention to its veggie burger as appropriate for teenage girls in the family who may be "going through a phase." Sexualizing vegan food in this way–by 1) noting the presumed gender of the consumer, 2) disparaging her activism as "a phase," and 3) phrasing this disparagement as "just a phase" to align it with the similarly disparaged LGBTQ+ community–helps to promote it as an option while protecting the anthroparchal status quo. 
By way of another example, American fast-food chain Subway promoted its largely "meat"-based mix-and-match lunch deal as an offer that has "something for everyone." The 'Veggie Delite' sandwich is paired with a white woman stereotyped as a hippie love child. Like the Red Robin commercial, Subway reinforces the sexist notion that healthy and ethical consumption is associated with the feminine gender role. More than this, the trope of the silly, free-spirited, "meat"-free white woman that Subway applies reinforces the idea that veganism is a lifestyle choice frivolously based on one's current mood or appetite; as changing and unserious as women are presumed to be. Veganism presented as a care-free, fun lifestyle choice disassociates it from the serious (and more masculized) realm of politics where veganism threatens the very status quo that enriches Red Robin, Subway, and other violent companies.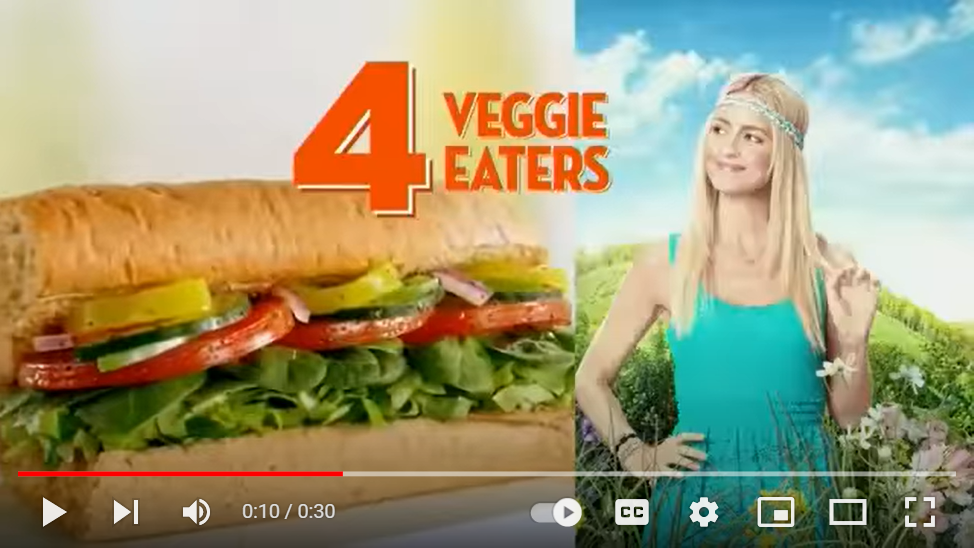 ---
Dr. Wrenn is Lecturer in Sociology at the University of Kent. She received her Ph.D. in Sociology with Colorado State University in 2016. She was awarded Exemplary Diversity Scholar, 2016 by the University of Michigan's National Center for Institutional Diversity. She served as council member with the American Sociological Association's Animals & Society section (2013-2016) and was elected Chair in 2018. She is the co-founder of the International Association of Vegan Sociologists. She serves as Book Review Editor to Society & Animals and is a member of the Research Advisory Council of The Vegan Society. She has contributed to the Human-Animal Studies Images and Cinema blogs for the Animals and Society Institute and has been published in several peer-reviewed academic journals including the Journal of Gender Studies, Environmental Values, Feminist Media Studies, Disability & Society, Food, Culture & Society, and Society & Animals. In July 2013, she founded the Vegan Feminist Network, an academic-activist project engaging intersectional social justice praxis.
She is the author of A Rational Approach to Animal Rights: Extensions in Abolitionist Theory (Palgrave MacMillan 2016), Piecemeal Protest: Animal Rights in the Age of Nonprofits (University of Michigan Press 2019), and Animals in Irish Society: Interspecies Oppression and Vegan Liberation in Britain's First Colony (State University of New York Press 2021).
Receive research updates straight to your inbox by subscribing to my newsletter.