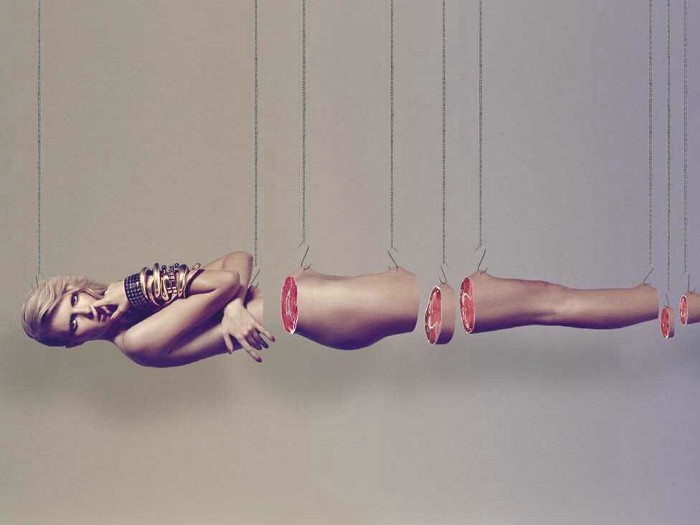 By Antonia Georgiou
Trigger warning: This post discusses extreme violence including rape.
Privileged and powerful men, as we learn time and time again, feel that they can get away with all manner of abuse against women. But when #armiehammer began trending recently, no one was quite prepared for the horrific nature of the accusations. The Call Me By Your Name star is facing allegations of indulging in violent sexual fantasies involving cannibalism, rape, and bloodsucking. Whether these claims are true or not, past statements made by the actor are testament to his hatred of women. Hammer was once quoted as saying, "I liked the grabbing of the neck and the hair and all that. But then you get married… You can't really pull your wife's hair. It gets to a point where you say, 'I respect you too much to do these things that I kind of want to do.'" The debate as to whether certain women are "worthy" of respect is frequently propagated by misogynists; that is, women perceived as being of less value may be subjected to degrading acts, whereas women who uphold the traditional gender role of, say, wife or mother deserve respect.
Hammer's purported behaviour is merely an extension, albeit an extreme one, of what powerful men in Hollywood have been getting away with for decades. The list of men accused of sexual misconduct seems to grow every day; some face repercussions, while others are either forgiven or their actions are swiftly swept under the carpet. Hammer, it seems, may very well end up in the latter category, with colleagues quick to dismiss the messages as fake news. This denial is demonstrative of the endemic nature of rape culture, as accusers are dismissed and distrusted, while their alleged abusers are painted as the real victims. Despite what his devotees may assert, dozens of screenshots of messages believed to have been written by Hammer exhibit a desire to quite literally consume women.
While there is nothing wrong with kinks involving consensual adults, an impulse to eat women is inherently misogynistic, and Hammer's accusers have said that they did not consent to the alleged acts. According to one of the DMs, Hammer is claimed to have "cut the heart out of a living animal before and eaten it while still warm". Tellingly, Hammer once revelled in posting gory photos of a dissected pig on his official Instagram, proclaiming with morbid glee that "He's smiling!"
The patriarchy tells us that real men eat meat, but when man has conquered, killed, and consumed as many non-human animals as he can, he may then turn to another animal that he deems lowly, lesser, and, crucially, unequal to him: the human female. It is not enough for rich and entitled men to subjugate women through power imbalances; the ultimate manifestation of misogyny comes in tearing off a woman's flesh, abasing her not simply through the patriarchal hegemony, but through the diminution of her very being. For these men, women are viewed as prey to be hunted, captured, and devoured. Though shocking, these alleged fetishes are an extreme symptom of pervasive misogyny whereby women are regarded as nothing more than vessels for male gratification, no matter how cruel and depraved the enactments may be. Moreover, cannibalism is a fundamentally selfish endeavour, which is symptomatic of a culture that centres itself on male pleasure, male needs, and women as the receptacles for whatever men desire.
In a recent interview with the Guardian, counsellor Michael Sheath explained that watching extreme pornography is a gateway into real life violence: "If you look at the videos on mainstream porn sites you can see 'teen' themes, 'mom and son' themes, lots of incestuous porn. It's pretty deviant stuff. To watch this you have already lowered your threshold of what is acceptable. Porn is an entry drug for a lot of them." While we may not know the reasons for Hammer's purported predilections, their depraved nature is rooted in increasingly callous pornography, in which women are routinely beaten and abused for perverse gratification. The more violent the pornography, the less satisfied the viewer, resulting in further aberrant searches until the fantasies manifest in everyday life.
As with kinks, there is nothing wrong with pornography itself; the problem lies with a male-dominated industry that exploits women's bodies and labour, for which they do not own the means, in unwaveringly aggressive and extreme enactments. When men grow accustomed to violent sex as the norm, there is a greater risk for women being subjected to this brutality in real life intimacy. For instance, when referring to raping a woman at knife point, Hammer allegedly laments that "everything else seemed boring" afterwards. As Sheath explains, "Think of young women emerging into the sexual world and meeting men who are into strangulation and anal sex. It's not criminal, it's not being reported, but as a social and cultural experience it's really significant."
Other DMs demonstrate a desire to be a slave master who owns his partners, as Hammer professes to a woman that he wants to "brand you, tattoo you, mark you". One former girlfriend, Paige Lorenze, has claimed that Hammer branded her by carving his initial into the skin near her vagina, which is undoubtedly the uttermost emblem of his patriarchal dominance. The veracity of Hammer and Lorenze's relationship has been confirmed by the former's team, who assert that the acts were consensual and did not amount to abuse. Branding is one of the most monstrous weapons of domestic violence, and the ultimate means of control, so the extent to which such intrinsically misogynistic acts could be consensual is dubious at best. By viewing women as property for his sole ownership, Hammer exposes the true extent of his privilege, suggesting that art imitates life and he is perhaps not dissimilar from malevolent characters he has played in excellent, anti-racist films such as The Birth of a Nation (2016) and Sorry to Bother You (2018).
Whether these allegations are true or not, they shed light on a woman-hatred so endemic in society that supporters are quick to defend even the most heinous of accusations. But there is no doubt that such an extreme fantasy, the literal devouring and degeneration of women, is the pinnacle of misogyny.
---
Antonia is a London-based writer with degrees from Queen Mary University and UCL. She is culture editor at New Socialist where she writes primarily on film from a feminist perspective. A lifelong feminist and animal welfare advocate, her other areas of interest include mental health, disability rights, and an end to austerity