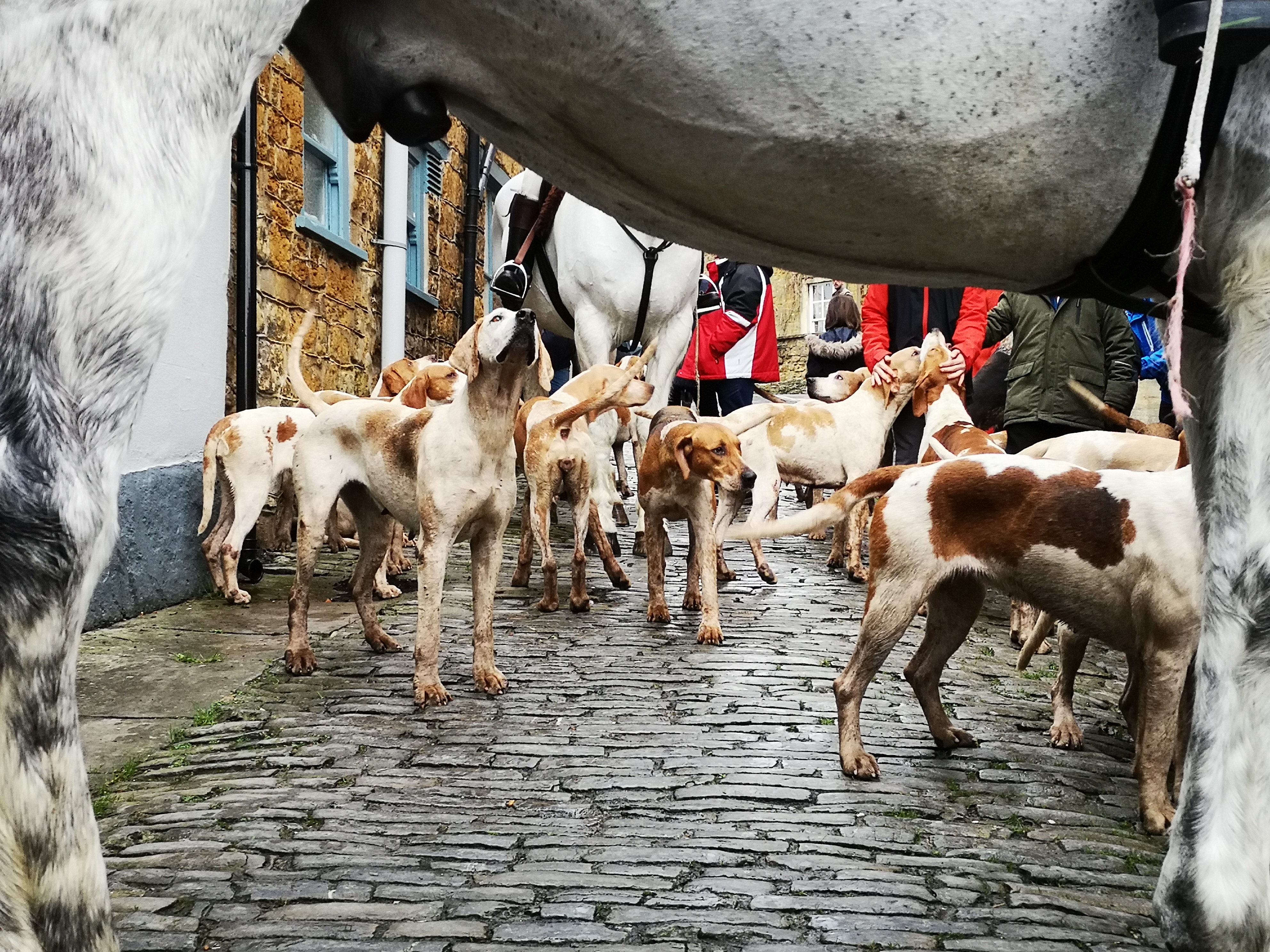 By Madelaine Couch
On Boxing Day 2018, I joined a hunt gathering.
Never in my life would I expect to say those words. Never in my life would I support hunting. I was an observer to document and tell a story.
I had just spent Christmas in a small West Country town. As usual, it was a day filled with eating, opening presents, drinking alcohol – the expected festivities. The following morning on Boxing Day, as it turned out, the town centre held a hunt meet. Fox Hunting.
I was curious to see what it was all about, because throughout my whole life I have stood against hunting for sport. I have opposed blood sports and I always will. Causing unnecessary suffering for man's pleasure seems sadistic to me. Cruelty is not an act I condone.
Rich Hardy is a storyteller, campaigner and investigative journalist. He has spent the past twenty years documenting the plight of animals around the world. He has spent time with fur trappers in America, Spanish bullfighters, exposed the rabbit fur industry, the broiler chicken industry, factory farms, followed live exports and told the story of primates kept in labs. Listening to interviews with Rich Hardy, he is a humble man who has dedicated his life to exposing cruelty and suffering, in an attempt to change laws and our behaviour towards animals.
Rich Hardy states that when spending time with many of these people who commit atrocious acts of cruelty towards animals, most of them are ordinary people in the world. They may go home to families, support their community and go to church. Some of them are respected figures in their towns and villages. Yet, beyond the human world, they can inflict profound
cruelty on another being. The sad fact is, this is quite common.
And this is the challenge. Because ultimately these people are not 'other'. If we categorise people who do these things as 'other' and an 'enemy', we dehumanise them and remove their responsibility. We need to understand that there is a potential in this world for people to act in such ways. We need to educate and tell the stories in order for people to learn and understand the truth. Because most of the time, people don't know the truth. The true stories are often kept behind walls – behind closed doors. They are intentionally covered up so intensive farming, blood sports and animal suffering for profitable gain can continue. The stories need to be told.
We walked into town on a crisp Boxing Day morning. I was surprised to see how busy the street was. In front of me stood a crowd of men and women in tweed jackets and hats, alcohol-induced rosy-cheeked men – their wives fashioning tall boots and neat hair do's. I'd never seen anything like it.
As the huntsmen arrived with their immaculately groomed horses and rugged hounds, people drank mulled wine and chattered over Christmas cheer, the hunt leader in his Beauchamp blazer stood out in a street full of hunters. In his red fox-hunting jacket, he spieled about supporting hunting and fighting for the rights of hunters. I felt like I'd been flung back a few hundred years. Echoes of racism, sexism and white male patriarchal ideology hummed through the streets. This world seemed alien in the 21st century.
The crowd gathered and the man in the red jacket gave a speech.
'First and foremost, can I just say a huge thank you to your town council for putting up with us yet again. This is one of our great traditions at Christmas time and it's a lovely spectacle to see the hunt in the town square. So, for those of you that live here, thank you all very very much.'
A lovely spectacle isn't the phrase that came to my mind. I genuinely felt fear for the foxes in the day that lay ahead. A large pack of rough looking hounds ran through the crowd whilst the sound of horns rang through the street. These dogs were large. They looked edgy, aggressive. People had brought their pet dogs out for the morning meet, and every single domestic dog confronted by a hound behaved with fear and aggression. Each pet dog
growled, hissed and barked at these hounds – because they were terrified of them.
'It's extraordinary that it was fifteen years ago now that I suspect many of you here faced a long trek to London to march in support of hunting. And of course, our voices were ignored and our politicians stabbed us in the back when they took the decision to ban hunting. But the good news is that we are still going and we have found a way to hunt within the law. And so, hunting, as we know it today, is still alive and well.'
Fox hunting was banned in 2004 in England and Wales. Since the ban of hunting, hunts invented an activity called 'trail hunting'. Hunters claim to simply follow a pre-laid trail instead of chasing a fox. However, years of evidence shows that these 'trail hunts' are used as a cover for illegal hunting – and they continue to hunt foxes.
On the League Against Cruel Sports website, it states that more than eight out of ten people are opposed to hunting, including those in rural areas. Most people understand the cruelty of fox hunting and don't condone it. The way we treat other sentient beings reflects the society we live.
There is the argument that fox hunting is about 'pest control', but hunts have been caught capturing and rearing foxes so they can be hunted. During one case, The League Against Cruel Sports investigators rescued and released foxes that were found locked up, near to a hunt meet. A few months later, monitoring the same hunt, their investigators were attacked, one resulted in a broken neck. For people to do this to human beings for rescuing a fox shows the level of violence and aggression that is tolerated in these blood sport cultures.
'But it is alarming that just on the radio today, I heard, that it's not enough now for them to take away our sport and then fine us if we break the law. They now want to put us in jail as well. And therefore, please, your support for this sport has never been more important. We do need to stand shoulder to shoulder. And so, what is also really lovely for us in the West Country for us to see, is the way that National Hunt Racing supports hunting.'
At that moment, I felt appalled to live in the West Country. My heart pounded, adrenaline pumped through my body. His speech was so loaded with talk of 'rights' and 'being stabbed in the back'. His tone was aggressive.
What about the suffering inflicted on British wildlife – foxes and their cubs? Not to mention the other animals that are often injured and harmed if they come into contact with the hunt.
Other animals and wildlife have been known to be killed during a fox hunt.
I saw footage recently of a huntsman throwing a dead fox into a river and kicking one of the hounds. It was disgraceful and disgusting. The lack of compassion for another being was so evident. The aggression was rife. Perhaps for many supporters of hunting, there's a pleasure in power and control. Man's dominion over animal.
Hunt supporters say the sport is not cruel – claiming the hounds kill the foxes outright. And the fox does not anticipate death. And alternative ways to kill a fox would cause more suffering. They argue that hunting is a tradition and keeps the British culture alive.
Ban supporters argue that the sport is cruel. If there is a problem with foxes in an area shooting is more humane than hunting. Yet, foxes are not pests. These sports are old. We should have moved on from those times.
As the hunters and hounds left for the hunt, I asked a man in the crowd why he supported hunting. What is the point of it? Why does he condone it? He told me it was a tradition that he didn't want to see lost and that it's a part of British culture. As I continued the debate with him, co-incidentally he waved to a neighbour and cut the conversation short. I wasn't being aggressive. I was trying to have a civilised, calm conversation. But he wouldn't go there. He wouldn't converse with me about it. Perhaps, deep down, he knew hunting was wrong.
So, the argument of tradition – what about bear baiting and bull baiting? These were also traditions. How can we be proud of many British traditions when they are so loaded with violence? I looked around me and saw white faces, tweed jackets, old husbands and wives, a history which I was not proud of. And fox hunting was another badge on that jacket of patriarchal dominion. Power. Elitism. Aggression. Control. A connection between blood sports and the ideologies of racism and sexism rang loud and clear.
I'll never understand the psychology behind supporting violent sports. Fox hunting. Bullfighting. Deer hunting. Many supporters of these sports also say they respect and wish to protect British wildlife in general. Have they ever heard of hypocrisy? How bold they stand in an ocean of duplicity. We must keep telling the truth because that is all this world has.
This article has been inspired by the work of journalist Jo-Anne McArthur who is the founder of We Animals, the photographer Sam Hobson, the primatologist Jane Goodall and wildlife presenter, Chris Packham.
---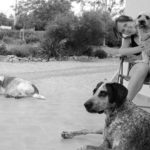 Maddy Couch is a writer and artist whose work examines themes relating to compassion for animals, wildlife protection, and the relationship between humans and animals. Her images feature in The Curlew Magazine and homes around the world. She has exhibited in Bristol, London and New York. Maddy has written for travel companies and VizArt Film. She is currently writing her first book and working on her 1000 Rescue project, creating 1000 artworks to raise awareness of animal and wildlife rescue worldwide. Maddy grew up in London. She received her BA from Brighton University, where she studied philosophy and history. She spent much of her twenties volunteering internationally for animal rescue, wildlife and community projects. She currently lives in Devon, with her
fiancé and two rescue cats. Maddy has also lived in Cornwall, Bristol and Taiwan.
You can find Maddy's work on her website, Instagram, Twitter, and Facebook.