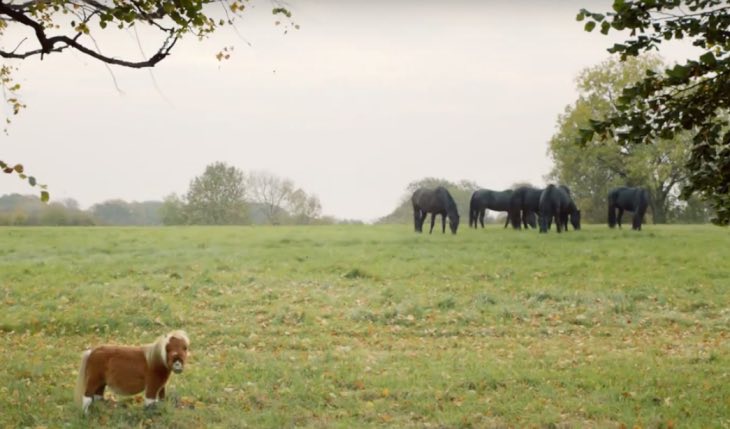 Shunned pony image from viral AmazonUK commercial.
By Lauren McGrath
Along with defending animal exploitation, asking repetitive questions, and constantly derailing arguments, a favorite pastime of non-vegans as of late seems to be their use of the Social Justice moniker in order to justify their non-veganism. Instead of attacking systems that exploit human and non-human animals alike, the warriors of the almighty keyboard are far more interested in using poor campaigns to justify the torture and murder of innocent non-human animals. They are more than happy to speak over the voices of marginalized members of society who choose to lead an ethical lifestyle in order to assert that no, they are the most ethical of all because they are acting as true allies. Or… something like that. Either way, imagine the energy these blue-in-the-face talkers could be expending on helping to make veganism mainstream and accessible? It's an interesting combination of trying to play The Ultimate Ally and simple bacon obsession, and there's no way around this.
Let's get an uncomfortable truth out of the way; there are certainly vegan organizations who take part in all sorts of bullshittery. From the rampant sexism of PETA to DxE's constant struggles with racist members, (links for both back to Ecorazzi pieces) the animal rights community does not always act in the best interest of all species. Unfortunately, this is a widespread phenomenon that all activist movements must face and deal with in the same ways. Singling animal rights out, however, is unfair. It's singled out because of cultural norms of violence and a societal obsession with meat consumption, undoubtedly. Veganism is such an easy target because society at large has created such mountainous misconceptions about it as a social movement. Every time an article critiquing veganism from a non-vegan is released, the author seems to expect vegans from marginalized backgrounds to take the attack lying down.
Last week, I wrote about former vegan Mickey Z.'s anti vegan tirade, and his blatant erasure of non-white, non-male, and poor vegans. "I'm sure plenty of you are itching to assure me that none of your friends behave like this. (None, you claim!) Hey, I personally know some amazing humans who happen to follow a plant-based lifestyle but sorry, that doesn't alter the overall reality," he wrote, using a brush to paint one of the most broad takedown attempts I've ever seen. "As someone who was immersed in the inner circle of veganism for two decades, I can speak from vast personal experience. So please spare me and everyone else the "not all vegans" defense."
It's the #notallvegans bullshit that really sets me off. The "out" vegan movement is diversifying at a rapid rate, with oppressed groups carving out their own spaces. Many of these groups have been at work for years publishing essays in regards to critical theory an animal rights, applying it both to the animal rights movement, and larger societal systems. Believe it or not, vegans can examine the world while also being reflective!
In terms of feminist theory, feminism with a focus on animal rights has existed for decades now. With theorists and strategists such as Corey Lee Wrenn's The Vegan Feminist Network, Carol J. Adams, and organized efforts such as Collectively Free that highlights grassroots feminist-vegan movement and thought, one must be willfully ignorant in order to not know how powerful vegan feminism is. Many feminists object to feminism and veganism being used in the same breath. They claim that our discussion about the female reproductive system and how it is exploited is taking part in biological essentialism. In truth, it's the animal agriculture industry that has worked so very hard to gender the animals that they exploit. I would love to speak in more gender neutral terms when discussing the rape of dairy cows or fixation on chicken's ovums. Unfortunately, farmer's obsessions with feminizing "their girls" makes veganism a feminist issue whether we're attaching gender to individual animals or not.
Everyday Feminism recently published an article called "4 Ways Mainstream Animal Rights Movements are Oppressive." What I found the most disturbing about the article is that it rushes past minority, non-male and queer led movements without really celebrating or giving credit to the hard work they are doing. Author Mahealani Joy lists ways that the "mainstream" movement (defined in the article as groups such as PETA) is oppressive without examining veganism itself. Critique of the mainstream movement is so incredibly important, but it was a huge failure to simply name drop three grassroots movements that are inclusive as a means of "covering all the bases". "The thing is, those people and the work they are doing is not what most people think of when they think of veganism, vegetarianism, and animal rights," writes Joy. It's because of commentary that focuses so strongly on PETA above all else that this problem exists to begin with, and Joy is participating in the silencing of progressive vegan movements by speaking over inclusive vegan movements. To their credit, the piece does highlight that as vegans, less focus needs to be put on aligning ourselves with large organizations and doing more work from the bottom up to prevent misconceptions from taking on lives of their own.
Friends, I'll take one for the team here. I'll be the one who says "not all vegans," because it is so very true. Non-white, non-male, and poor vegans have been thrown under the bus for far too long and used as props and tools for anti-vegans to continue to mislead members of the social justice community. It's time we stand together as a movement to move past the lies that are told about us.
---
Click here to visit the author's website.