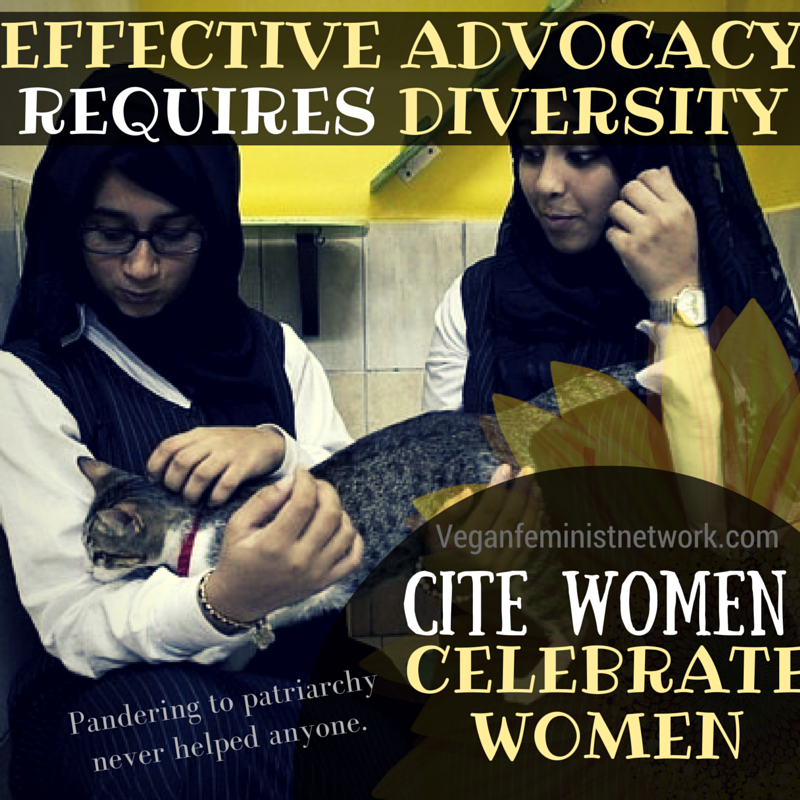 Diversity matters in the vegan movement for three reasons.
First, social movement research indicates that a diversity of representatives will be more likely to resonate with a diverse audience, and a diverse audience is needed for social change.
Second, a diversity in leadership provides role models, which attracts and nurtures a diverse activist pool. Social psychological research supports that marginalized people find a sense of agency and belonging when they see people like them doing important work.
Third, a white-centric/male-centric movement relies on the very same hierarchies of power that facilitate speciesism.  As Audre Lorde famously stated, "The master's tools will never dismantle the master's house."
Here is my challenge to you. Try going an entire week without citing, referencing, or promoting a male leader or a male-led project. Replace them with women/of color doing similar work. Highlight diversity instead of spotlighting privilege.
Then, expand your practice. Make it a habit to promote diversity in Nonhuman Animal rights spaces instead of defaulting to the status quo of men, all day, everyday. Double-down on your anti-speciesism politics by maintaining an intersectional lens.
---
Dr. Wrenn is the founder of Vegan Feminist Network. She is a Lecturer of Sociology with Monmouth University, council member with the Animals & Society Section of the American Sociological Association, and an advisory board member with the International Network for Social Studies on Vegetarianism and Veganism with the University of Vienna. She was awarded Exemplary Diversity Scholar 2016 by the University of Michigan's National Center for Institutional Diversity. She is the author of A Rational Approach to Animal Rights: Extensions in Abolitionist Theory.