Not Safe for Work: Contains Coarse Language
By Michele Kaplan
One thing the Animal Rights movement is not short on is statistics. We have stats so exact, we have what is called "kill counters", that tell you exactly how many marine animals, chickens, ducks, pigs, rabbits, turkeys, geese, sheep, goats, cows (and calves), rodents, pigeons (and other birds), buffalo, dogs, cats, horses, donkeys (and mules) and even camels have been killed, within seconds that it took to view a page on the internet.
And as we watch the numbers on the counter rapidly increase, taking less than a minute till the numbers are in the thousands (for many animals), what is the animal rights activist to do with that information?
Does one nod soberly, acknowledge the truth, and say something like "there is much work to be done. We keep fighting."

Or does one intensely focus on the staggering statistics, the numbers that just … keep… rising, and say "There is no time to waste! The animals need us now!!!" This is The Urgency, (the activist panic) that if one is not careful, can swallow you whole.
And while The Urgency says "do… something! Hurry up! Go! Go! Go!!", is the default answer to take immediate action? Can we remain mindful and aware that because we are in a state of urgency, that it is very much possible that it's clouding our judgment, as to what constitutes as a good idea for the cause?
After all, when we are in a state of panic (activist or otherwise), often the dominant motivation is a strong desire to experience catharsis, to get relief from said emotion (whether we are conscious of that or not). This is not to say that an action can not be both cathartic and effective, this is to say that just because it feels good, it doesn't necessarily mean that we are reaching beyond the choir.
Is it possible to be mindful in a state of urgency, that we can either tell someone "Fuck you!" or we can try to educate them, reach out, but that we can't do both? That as activists we have to decide what we want to accomplish and ask ourselves : will this action, will this behavior, will these words work towards or against the goal? We all want to say "Fuck you!" sometimes, but what happens when we mistake this for effective activism? #KnowTheDifference
Can we, in our state of urgency, remain aware of triggering language? Can we remain aware that, yes while "holocaust" is defined as "destruction or slaughter on a mass scale", and thus when we use it to describe the animal agriculture industry, we are using it in an accurate fashion, but it's what the word is commonly associated with (the slaughter of humans on a mass scale), that will matter more in our outreach related conversations?
Can we be aware that having the truth is not enough? Can we be aware of vegan consciousness (and the varying levels of), and that it is simply not always realistic to expect nor demand instant vegan consciousness (that matches our own), knowing that the unlearning of deep rooted speciesism is a process, not a moment. Can we remember in a state of urgency, that unless we were born vegan, there was a time when we didn't get it either?
Or in our state of urgency, is there no time to be aware of such things? And if that is the case, what exactly are we doing? Are we really helping the animals or are we just yelling "Fuck you"?
AUTHOR'S NOTE: This article was written with no intention to disparage or attack anyone in the community. The article was also written with no intention to put down anxiety or suggest that an anxious state is an inferior state. It is not. There is no inferior or superior emotional state and as with all emotional states, it is to our benefit (when possible) to be aware of how it may be influencing our thought process. This article is also not suggesting that the activist should be perfect at all times. No one is, as perfection does not exist. The only reason I am able to write about The Urgency (aka: the activist panic) in such detail, is because I have often experienced it myself in my own activism, and it is only when I stopped to examine my own behavior, and questioned what was I really accomplishing, was when I realized how The Urgency can impact one's judgment, despite having good intentions. The article is also not written with the intention of telling anyone how to do vegan activism. It is merely asking questions for discussion. I still struggle at times, with how to reach beyond the choir, but I have learned that activism without self care is just a ticking time bomb waiting to go off.
EDITOR'S NOTE: "The Urgency" is frequently used to divert from pro-intersectional, critical thinking in advocacy spaces. It is also highly gendered in its expectation that women must put others first, thus shaming them for considering how urgency-based tactics could be hurtful to other women. Read more in the essay, "What Are You Doing to Help Animals Right NOW?" hosted on Coreyleewrenn.com.
This essay originally appeared on Rebelwheels' Soapbox on April 4, 2016.
---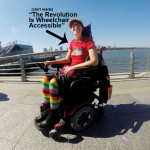 Michele Kaplan is a queer (read: bisexual), geek-proud, intersectional activist on wheels (read: motorized wheelchair), who tries to strike a balance between activism, creativity and self care, while trying to change the world.