Photo by Katerina Plotnikova
By Anna Varga
In Carol J. Adams' 1990 groundbreaking eco-feminist text The Sexual Politics of Meat: A Feminist-Vegetarian Critical Theory, she takes the reader on a journey that touches on patriarchy, meat-eating, feminism, veganism (though Adams calls it vegetarianism, as a vegan herself she addresses dairy and egg production), and the ways in which each influence one another. One of Adams' most pervasive theories compares the ongoing oppression of women and consumption of animals as influenced by their roles as "absent referents," which divorces the consumable object (figuratively as the female body and literally as the animal body) from the individual.
When I was first introduced to this text in college, I was an active and enthusiastic meat-eater. I once had a fleeting thought that I could try vegetarianism, but it was quashed pretty quickly when my breakfast sausages arrived. I even teased a friend of mine for being vegetarian. I didn't give a second thought to the ethics of eating animal products because I cared about problems already! I was active in the feminist group at my university. I understood systemic oppression and as I learned more my eyes were opened to the most insidious injustices that faced humans. In sum: I cared deeply about addressing my own internalized biases, but only if it didn't involve an upheaval of my everyday behavior.
Adams' work was presented to my feminist group during the spring semester of my sophomore year. The woman presenting showed us images and advertisements in which farmed animals and women were interchangeable, treated as equal players in the eyes of the intended (meat-loving, heterosexual, male) audience. With warning of violence, we briefly watched footage from Earthlings (I closed my eyes). We were shown a White Castle advertisement in which a pig dances seductively and pours on herself barbeque sauce (described as "sweet, saucy, and oh so naughty"), resulting in the hooting and hollering of the male audience. In one heartbreaking photo, a pregnant sow documented in an undercover investigation of Iowa Select Farms was in a crate she couldn't move in, attached to which was a card that described her as a "FAT/SELFISH BITCH."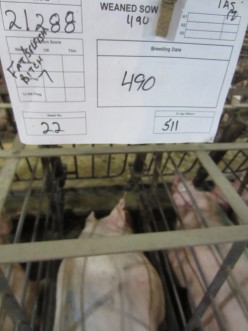 Image from Mercy for Animals
We were captivated by the presentation. But, of course, following the meeting the majority of us did nothing to change. That would require too much effort when we could, alternatively, do nothing. We were engaged in learning more about and fighting human injustice, and adding farmed animals into our circle of compassion felt more like a chore than a choice. We didn't want to acknowledge that refusing to eat animal products was as much a rejection of participation in suffering as anything else we strove to do. While outwardly agreeing the presentation brought our attention to disturbing information and offered avenues for action, we were internally defensive due to prior exposure to vegan activism. We perceived PETA to be the face of veganism and therefore extended our judgment of the organization onto all vegans. PETA's alarming willingness to objectify women to make a point required us as feminists to dislike them and, consequently, all vegans.
Despite our skepticism, we had living proof that at least two vegans, Carol J. Adams and the woman presenting Adams' work to us, cared about both feminism and veganism. To justify our unwillingness to make fundamental changes in our behavior, we claimed excuses that many people make when encountering veganism for the first time. We lived on campus and had to rely primarily on dining hall food, which had vegan options but certainly not as many as there were non-vegan options. And vegans have so many health concerns, right? (We couldn't be certain the speaker didn't have protein, calcium, and B-12 deficiencies!) We really couldn't live without cheese—being vegan was an ascetic lifestyle that some could handle but most couldn't, and we feigned sadness when conceding we were part of the latter group. Our friends liked to get burgers and go to the local ice cream shack, and we would be left out. Plus, our families ate animal products, what would we do when we went home? We had a laundry list of excuses that sounded really convincing and we hid behind them. I remained staunchly non-vegan, but all the information I had been exposed to during the one-hour meeting stayed in the back of my mind and slowly ate at me.
At the end of that year I found myself eating a hamburger as my mother boasted about how much I had always loved animals. I never played with dolls, but I had piles of stuffed animals and absolutely loved cats, dogs, horses, and even hamsters (I have pictures of myself as a child with nearly every animal I ever met as proof). I looked at my hamburger and it was no longer simply beef. It was an animal who was killed, ungraciously and without necessity, to become an object for my consumption.
Well, shit. Here I was halfway through a burger, uncomfortably burdened by two distinct realizations: 1) the list of excuses I began making nine months earlier suddenly seemed entirely inadequate and 2) Adams was right (she, too, realized her hypocrisy while consuming a hamburger). For the first time I understood Adams' politicized version of the absent referent.
One does not eat meat without the death of an animal. Live animals are thus the absent referents in the concept of meat. The absent referent permits us to forget about the animal as an independent entity; it also enables us to resist efforts to make animals present. (51)
The absent referent allows us to buy prepackaged meat at the grocery store without reflecting upon the living animal it was part of not long before, and what conditions she lived and died under. It allows us to order ice cream without recognizing that milk can only be obtained by (typically artificially) impregnating a cow and separating her from her baby, and without considering what happens to that baby, or his mother. We can eat an omelette at brunch without thinking of the millions of male chicks who are ground up alive or suffocated each year because they are worthless in the egg industry, chowing down with nary a thought that the "cage-free" eggs we're charged extra for might only be a marketing tactic. The role of living animals as absent referents means "I want these leather shoes!" is rarely followed with, "I love the feel of animals' hides and skin on my feet." We celebrate the success of one cow escaping the slaughterhouse and the kindness of a family rescuing a piglet found in the snow but have difficulty applying that compassion when considering the approximately 140 million cows and pigs that are slaughtered throughout the course of a year in the US. We see the individual animal when she presents as a fighter—as desperately wanting to live—and only then does she deserve her life. When she doesn't earn that recognition, she ceases to deserve any thought at all. Without a publicized escape attempt she is not an animal who may have desperately wanted to live, but a product to be bought and the absent referent at the dinner table.
The absent referent is eagerly upheld by eateries who have a stake in the willing naïveté of their customers. The "farm-to-table" movement gets its popularity from its we-put-our-foot-down demand of "humane" meat, dairy, and eggs. Restaurants participating in this movement strive to only serve "antibiotic-free pork" and "pasture-raised dairy" as if they have a garden patch with flowers that spurt cows' milk and bacon that grows like a root vegetable. The terms hide and further prevent us from acknowledging the experiences of "happy" cows, who are forcibly impregnated as often as possible so we can enjoy the milk they'll produce as a consequence of pregnancy. Once these "pasture-raised" cows have had a few calves and are "spent," they're killed as well.
Animals are made absent through language that renames dead bodies before consumers participate in eating them. Our culture further mystifies the term "meat" with gastronomic language, so we do not conjure dead, butchered animals, but cuisine." (51)
Neither Adams nor I mean to imply people don't know the general source of food. Rather, we critique the widespread and harmful adoption of fantasies like grassy hills, happy cows, and harmless slaughter. It is the willful ignorance on the part of the consumer and the encouragement of ignorance on the part of the provider that play an important role in the continuance of consuming animal products. Animals are given positive emotions for marketing purposes, but we refuse to believe they can and do suffer.
Without its referent point of the slaughtered, bleeding, butchered animal, meat becomes a free-floating image. Meat is seen as a vehicle of meaning and not as inherently meaningful; the referent 'animal' has been consumed. (59)
The living animal becomes an object to purchase and consume, experiencing unimaginable conditions throughout his life before parts of his body hit shelves in time for the Sunday rush. The living animal loses his identity in the food process, advertised only as "grass-fed steak" or "pasture-raised beef," already an object when describing a time during which he was very much alive and not yet butchered body parts. As the absent referent, the animal never lived nor was he slaughtered, he was only a dozen cuts of meat in a field, patiently waiting for his time.
Despite initial resistance, my feminist roots eventually brought me to vegetarianism and then veganism. I began noticing the shared language surrounding the treatment of women and animals. Objects to be consumed. Loss of identity during objectification. Mouth-watering breasts, legs, thighs, and rumps. Being reduced to body parts for others' enjoyment. Adams offers additional insight regarding how the absent referent relates to the politics of reproductive justice. Adding to Adams' politicized concept of the absent referent, I conclude that human suffering, like the suffering of animals during the process of objectification, is a hidden cost of the consumption of meat. I watch how we not only ignore the routine suffering and death of the animals when choosing a package of chicken wings, we also turn a blind eye to the serious health implications of working in a poultry slaughterhouse. The absent referents are slaves in the seafood industry, and families affected by factory farm pollution. The mechanism that allows us to overlook injustices like these against humans is the same that allows us to sit down at dinner without considering the lives, suffering, and deaths of the animals that made it possible.
Being a feminist vegan is not changing the world single-handedly; the real changes take a group effort and for that I'm thankful for activists who understand the prevalence of human and non-human animal suffering and strive to address both. However, my participation in both movements did change me: it made me more aware of the world I live in and how I can act within our current society to avoid contributing to systems of oppression.
My veganism has been a reconciliation of existing ideologies and concepts I once could not adopt because they were so inconvenient and unfamiliar. Already a feminist, veganism was a step outside the path I was already comfortable taking. Adams opens The Sexual Politics of Meat with, "My becoming a vegetarian had seemingly little relationship to my feminism—or so I thought. Now I understand how and why they are intimately connected, how being a vegetarian reverberates with feminist meaning" (23). Like Adams, I also realized my vegetarianism had and my veganism has everything to do with my feminism and the reality is clear: the parallel suffering of women and animals in their roles as the absent referents will continue to exist as a consequence of objectification so long as we continue to deny their fundamental interconnectedness.
---
Anna Varga is a feminist and vegan advocate living in Washington, D.C. with her partner and two cats, and is particularly passionate about the ways in which vegan politics and theory can and do address both human and non-human animal suffering.