By Michele Kaplan
There was a period in my life
where I devoted
My heart. My soul. My time.
Passionate. Vegan. To Animal Rights.
I would stand there in the freezing cold, some winter nights.
bundled up like I was going on an arctic expedition
with my activist family by my side
What do we want? Animal Liberation! When do we want it? NOW!
all with my camera, raised fist or a protest sign,
#ForTheAnimals! #ForTheEarth! #ForTheMovement!
and then. my wheelchair. stopped.
working
and no longer was I able to attend,
the many and various AR events.
And because sometimes shit happens consecutively,
my physical health also went sploot.
*sploosh*
It all began to unravel.
I began to share less and less vegan articles on social media
because I just lacked the energy to engage
in the sometimes defensive and hostile conversations, as I tried to explain.
why veganism
I began to share less Animal Liberation events
because I was already feeling isolated from not being able to attend,
because I lacked the heart space required to further face isolation.
backlash. that can occur from advocating
for a cause that goes against the norm.
No more energy to give
to the long draining internet conversations
with the single issue activists
who felt that veganism gave them some sort of free pass!
to discriminate.
No energy for the long draining internet conversations
for the activists who cried out
"vegan apologist!!" "sellout!", accusing me of distracting from the cause.
for when I told them that it didn't.
No more energy to write the intersectional articles in response,
desperate to do damage control because what. if. someone
outside of the movement
read this (what they posted) and thought
THIS represents the movement as. a. whole!
That this deters them from going vegan!
Oh no! Quick! We have to do… something!
#ForTheAnimals! #ForTheEarth! #ForTheMovement!
No more energy to spare for the urgency.
No more energy to spare…
No energy to spare for the anger in the movement,
lacking mindfulness, driven by ego rather than the cause.
No energy, not even for the intersectional anger, driven by compassion.
No energy to spare to be angry.
There was no energy to spare…
And when people would turn and say to me (almost demanding)
"Go ahead. Convince me. Why should I go vegan" (as you have done before)
a voice in my heart and head would cry out
"I don't fucking care if you go vegan!!"
I am overwhelmed. I am drained. Thirsty soul.
I am just trying to survive.
get though this.
I have nothing to give.
And as time went on, and I became
isolated from the community
(which I say without resentment.
For this is the nature of the activist family.
The cause is the glue)
I began to rethink my devotion
Once married to the cause, I had no choice but to now map out:
Just who am I (when I'm not the hardcore animal rights activist, taking photos at the events)?
Quiet and aching from the times,
searching for a sense of community.
I began to rediscover a life beyond the movement.
And because the majority of people who stood by me during this time,
happened to be the folks I knew before I went vegan.
I began to question ideas of compassion
I began to question ideas of priority
Just what is important to me in this life?
And what is worth my devotion?
But if this was in question.
Yes.
I am still vegan.
#ForTheAnimals. #ForTheEarth.
Author's Note:
This poem is in no way putting down or trying to get people to not get involved in the AR movement. Like any activist movement in society, there are problems within the movement. This is not an animal rights thing. There are issues of privilege. But there is also a growing intersectional side to animal rights. This poem wrote was written in regard to my experience. It's not to say that I will never return to the movement. I probably will. Activism is a part of me. But it talks about defining veganism for yourself. Not in the sense that you occasionally eat vegan food but still call yourself vegan, but in regard to the idea that a "real" or true vegan is out there in the streets, fighting for the animals but sometimes that's just not an option. And that doesn't mean one should stop being vegan, because veganism is not about a human run movement. It's about the animals and the earth.
This is also not to suggest that no one in the AR movement stood by me. While there is a difference between activist friends and friends, I have made good fiends in the movement as well.
This essay originally appeared on Rebelwheels' Soapbox on May 17, 2015.
---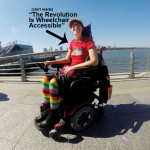 Michele Kaplan is a queer (read: bisexual), geek-proud, intersectional activist on wheels (read: motorized wheelchair), who tries to strike a balance between activism, creativity and self care, while trying to change the world.