Following my essay on Women Laughing Alone with Salads, a colleague became curious and googled what we might consider to be the reverse: men eating steaks. What he found, and what I was able to verify in my own Google image search, was the repeated theme of men gnashing their teeth at a big slab of flesh, often with a fork and knife firmly planted on either side of its plate.
In a somewhat primordial manner, these images seem to read, "I AM MAN; MAN NEED MEAT." The firm, just-slammed look of his fists and the strong grip they have on the utensils are rather common gender codes that present men as in control and in command over their surroundings.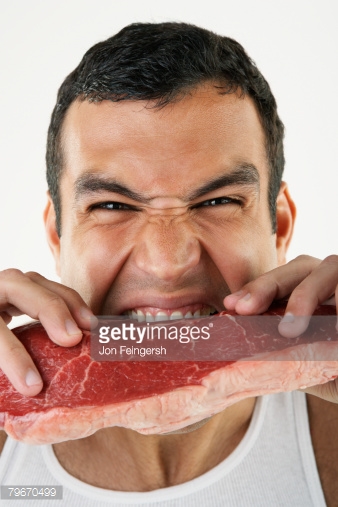 Interestingly, the steaks are almost always shown uncooked. The intention is likely to portray men's flesh-consumption (a very unnatural behavior) as natural. This is underscored by the frequency of stock photographs that show men consuming the steak directly without the help of utensils, gnawing on the flesh as though they were a carnivorous nonhuman species.
Another interesting point: when I searched for images of women eating steaks, time and time again, they are grappling with raw flesh positioned above the head as though overwhelmed (people don't eat upside down). It also seems to suggest subservience, a subservience that is frequently sexualized through pose and nudity. When she is using utensils, she is more likely to be handling them weakly or in an unsure manner.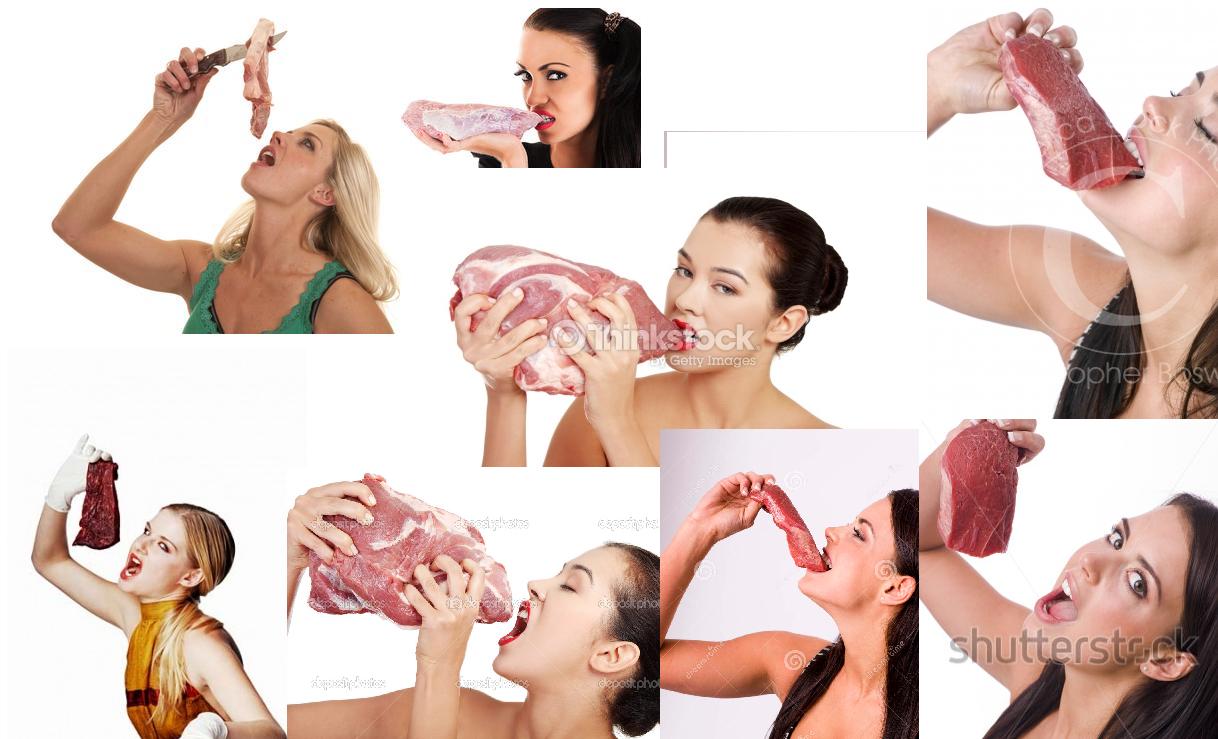 Overall, images of women eating steaks are few, as the notion is contrary to gender norms. When pictured at all, it is clear that the gender hierarchy must be preserved by demonstrating that flesh consumption (an act of domination and power) is less natural and more awkward for women.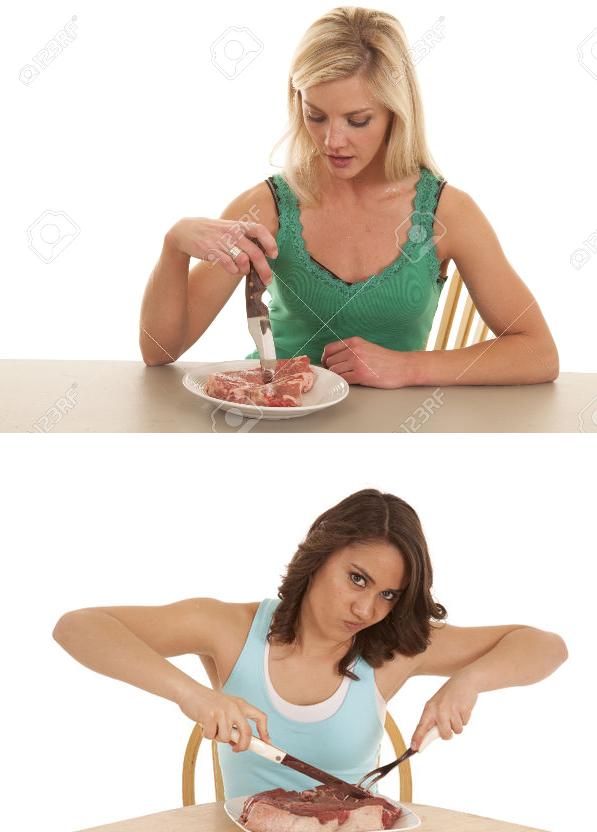 Meat acts as a symbol of masculinity. Therefore, men interact with meat to demonstrate their prowess, while women interact with meat to demonstrate their subservience.
---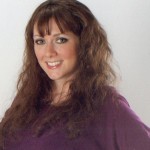 Dr. Wrenn is Lecturer of Sociology with the School of Social Policy, Sociology and Social Research (SSPSSR) and Co-Director of the Centre for the Study of Social and Political Movements at the University of Kent. She received her Ph.D. in Sociology with Colorado State University in 2016. She was awarded Exemplary Diversity Scholar, 2016 by the University of Michigan's National Center for Institutional Diversity. She served as council member with the American Sociological Association's Animals & Society section (2013-2016), was elected Chair in 2018, and co-founded the International Association of Vegan Sociologists in 2020. She serves as Book Review Editor for Society & Animals and Editor for The Sociological Quarterly, is a member of The Vegan Society's Research Advisory Committee, and hosts Sociology & Animals Podcast. Dr. Wrenn has been published in several peer-reviewed academic journals including the Journal of Gender Studies, Environmental Values, Feminist Media Studies, Disability & Society, Food, Culture & Society, and Society & Animals. In July 2013, she founded the Vegan Feminist Network, an academic-activist project engaging intersectional social justice praxis. She is the author of A Rational Approach to Animal Rights: Extensions in Abolitionist Theory (Palgrave MacMillan 2016), Piecemeal Protest: Animal Rights in the Age of Nonprofits (University of Michigan Press 2019), and Animals in Irish Society (SUNY Press 2021).
Receive research updates straight to your inbox by subscribing to my newsletter.