A la suite de mon essai "Des femmes riant seules avec des salades ", un collègue curieux google-ise ce qu'on pourrait considérer comme le contraire : des hommes mangeant des steaks. Ce qu'il a trouvé, et qui s'est trouvé confirmé lors de mes propres recherches d'images sur Google, est le thème répétitif d'hommes s'agaçant les dents sur une grosse tranche de viande, souvent avec la fourchette et le couteau fermement plantés de chaque côté de leur assiette.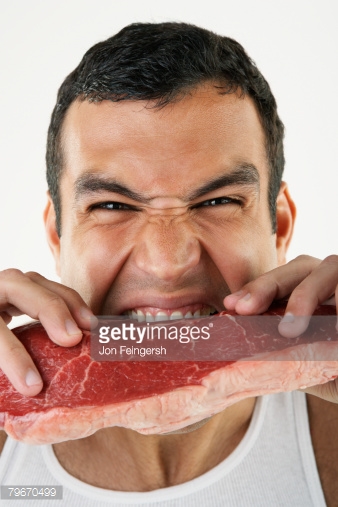 Le message primordial envoyé par ces images semble être " JE SUIS UN HOMME ; L'HOMME A BESOIN DE VIANDE ". Ses poings bien alignés et leur prise ferme sur les ustensiles sont des codes genrés communs, présentant les hommes aux commandes et au contrôle de leur environnement.
De façon intéressante, les steaks sont presque toujours montrés crus. L'intention vraisemblable est de montrer la consommation de chair crue par les hommes (un comportement anti-naturel) comme naturelle. Le fait est souligné par l'abondance de photographies qui montrent des hommes consommant le steak directement sans l'aide de couverts, rongeant la chair comme s'ils étaient une espèce carnivore non humaine. A contrario, quand je cherche des images de femmes mangeant des steaks, à maintes reprises, elles sont aux prises avec de la viande crue positionnée au-dessus de leur tête, l'air accablé -personne ne mange la tête à la renverse. Ceci suggère aussi la soumission, une soumission souvent sexualisée à travers leur pose et leur nudité. Quand elles ont des couverts, elles sont davantage montrées les utilisant de manière faible ou peu sûre.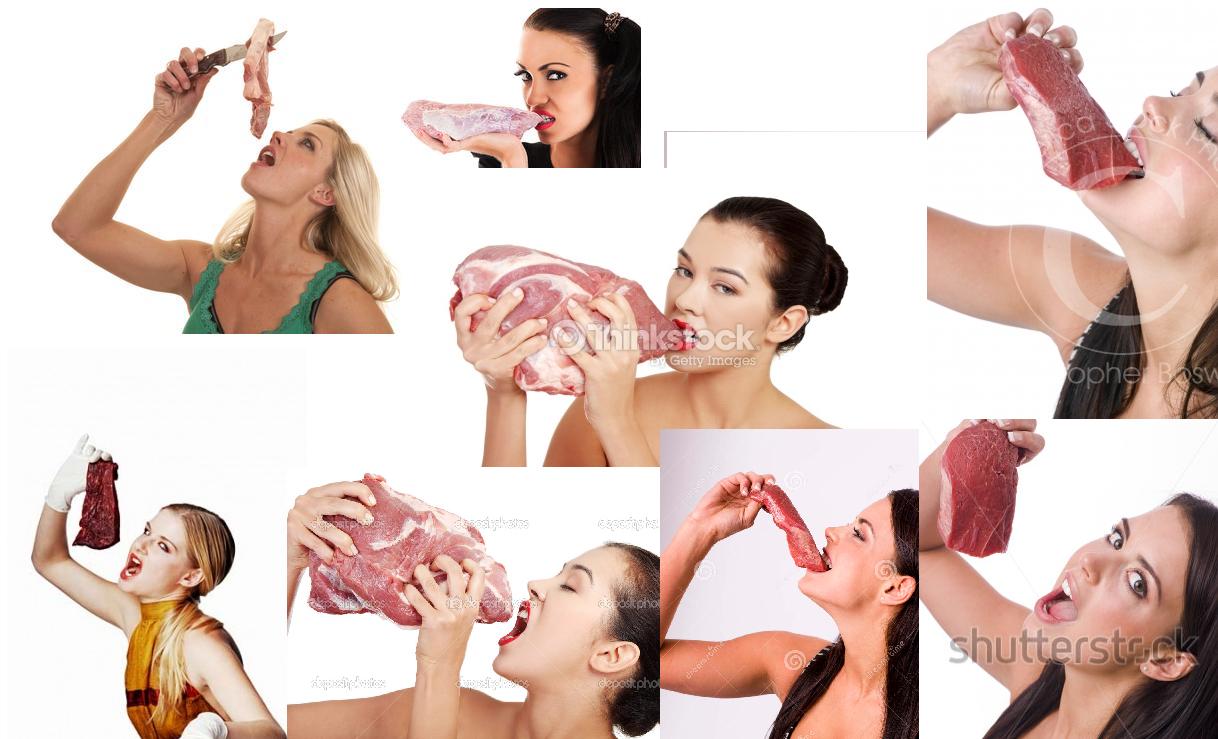 Par dessus tout, les images de femmes mangeant des steaks sont moins nombreuses, car la notion est contraire aux normes de genre. Quand on en trouve, il est clair que la hiérarchie des genres doit être préservée en démontrant que la consommation de chair (un acte de domination et de pouvoir) est moins naturelle et plus maladroite chez les femmes.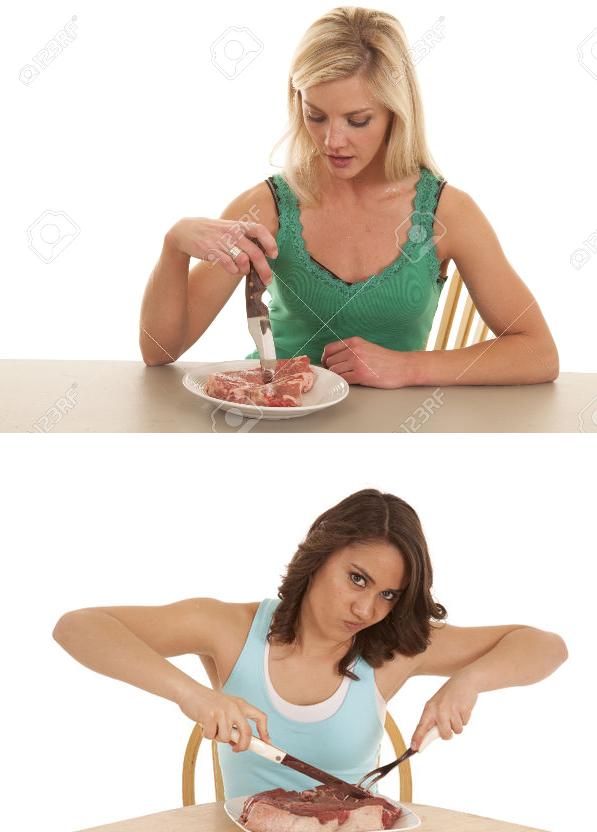 La viande est un symbole de masculinité. Donc, les hommes interagissent avec la viande pour démontrer leurs prouesses, les femmes interagissent avec la viande pour démontrer leur soumission.
---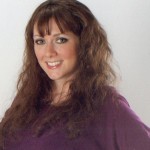 Dr. Wrenn is Lecturer of Sociology. She received her Ph.D. in Sociology with Colorado State University in 2016. She received her M.S. in Sociology in 2008 and her B.A. in Political Science in 2005, both from Virginia Tech. She was awarded Exemplary Diversity Scholar, 2016 by the University of Michigan's National Center for Institutional Diversity. She served as council member with the American Sociological Association's Animals & Society section (2013-2016) and was elected Chair in 2018. She serves as Book Review Editor to Society & Animals and has contributed to the Human-Animal Studies Images and Cinema blogs for the Animals and Society Institute. She has been published in several peer-reviewed academic journals including the Journal of Gender Studies, Feminist Media Studies, Disability & Society, Food, Culture & Society, and Society & Animals. In July 2013, she founded the Vegan Feminist Network, an academic-activist project engaging intersectional social justice praxis. She is the author of A Rational Approach to Animal Rights: Extensions in Abolitionist Theory (Palgrave MacMillan 2016).
Receive research updates straight to your inbox by subscribing to my newsletter.