Translation by María. María is active with Ochodoscuatro Ediciones, a non-profit anti-speciesist book house that is noted for translating Carol Adams' The Sexual Politics of Meat into Spanish. You can view the original English version of the essay below by clicking here.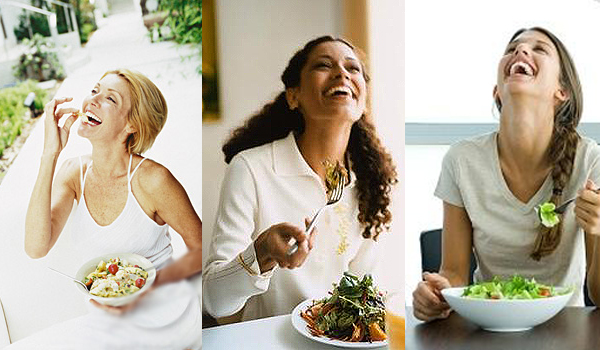 Por Corey Lee Wrenn
Lo has visto cientos de veces. Ya sabes, la mujer de ojos brillantes que se está comiendo una ensalada. La cabeza inclinada hacia atrás en gesto de júbilo histérico, aparece completamente superada por la gloriosa mezcla de vegetales que adornan su plato. El folleto promocional de tu cooperativa local de alimentos naturales incluye esta escena. La página web de tu cadena de supermercados las utiliza. Así como los carteles de las paredes de su centro de salud. Montones de organizaciones veganas las utilizan. Diablos, apuesto que, si recuerdo bien, yo misma he utilizado una para ilustrar una publicación en este blog al menos una vez.
Fotos de archivo de mujeres… sentadas solas… con una ensalada tan condenadamente hilarante, que no pueden evitar estallar en risas y deleite.
Hace poco, lo absurdo de estas imágenes ha atraído la atención en Internet, resultando en imitaciones: una página Tumblr, e incluso una obra de teatro.
Comer ensalada no es especialmente divertido. Rara vez induce al éxtasis. Por lo general, resulta más bien una experiencia difícil, que consiste en empujar desordenadamente hojas de lechuga en tu boca. A menudo no es satisfactorio: demasiado aliño, o no suficiente. En realidad, puede que estés pensando si se te ha quedado un trocito de lechuga entre los dientes, y eso te impide sonreír de oreja a oreja entre bocado y bocado. Comer ensalada es, habitualmente, una actividad ordinaria y aburrida.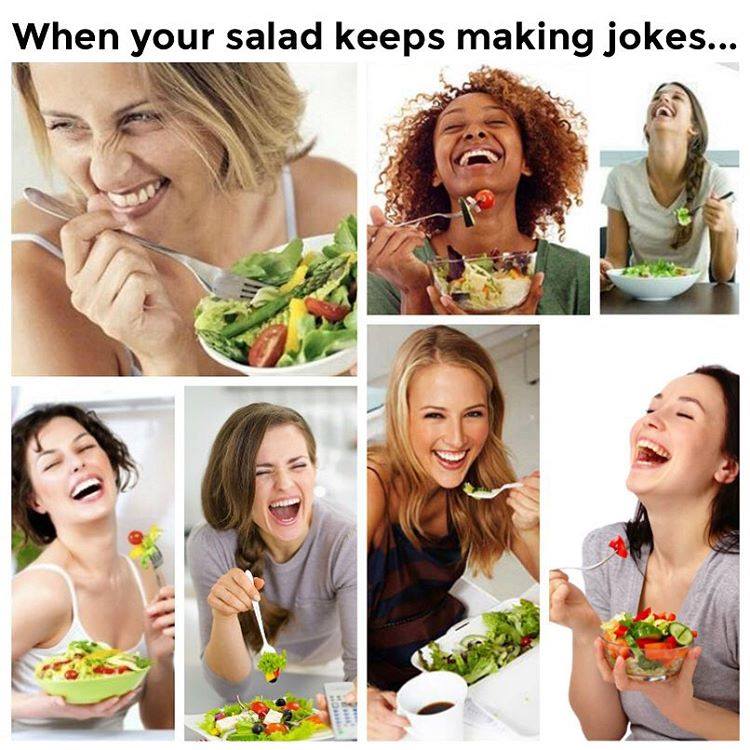 Pero comer ensalada es una actividad femenina, y como tal, la tarea debe ser realizada para contar una historia particular, que tiene una función cuando lo observamos y documentamos.
La teoría feminista vegana nos dice que los alimentos (aquello que comemos y cómo lo comemos) está firmemente arraigado en las normas de género. El consumo de verduras (siendo la ensalada el tópico omnipresente) es un comportamiento altamente feminizado. Los códigos de género también se manifiestan en la habitual hiper-emotividad de las mujeres en publicidad. Es decir; las mujeres son a menudo retratadas teniendo respuestas emocionales inapropiadamente extremas. La representación de este tipo se suma a la comprensión cultural de la feminidad como infantil, irracional e inmadura. En este caso, incluso un poco alocada. Estas imágenes refuerzan la condición de subordinación de las mujeres. Unir mujeres hiper-emotivas con alimentos hiper-feminizados construyen una perfecta iconografía sexista.
Por supuesto, ya me han hecho el inevitable comentario "¡pero los hombres también!". Es cierto, a veces también se muestra a hombres estando un poquito demasiado emocionados al comer ensalada. Pero, seamos sinceros; ellos aparecen con mucha menos frecuencia representados carcajeándose, con su cabeza echada hacia atrás, en ropa interior, o embarazados. La frivolidad del consumo de ensaladas es, en gran medida, un asunto femenino.
Cuando los hombres sean representados en el escenario improbable de comerse una ensalada recostados en una cama llevando un tanga blanco, entonces, hablemos.
---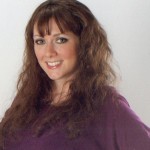 Dr. Wrenn is Lecturer of Sociology. She received her Ph.D. in Sociology with Colorado State University in 2016. She received her M.S. in Sociology in 2008 and her B.A. in Political Science in 2005, both from Virginia Tech. She was awarded Exemplary Diversity Scholar, 2016 by the University of Michigan's National Center for Institutional Diversity. She served as council member with the American Sociological Association's Animals & Society section (2013-2016) and was elected Chair in 2018. She serves as Book Review Editor to Society & Animals and has contributed to the Human-Animal Studies Images and Cinema blogs for the Animals and Society Institute. She has been published in several peer-reviewed academic journals including the Journal of Gender Studies, Feminist Media Studies, Disability & Society, Food, Culture & Society, and Society & Animals. In July 2013, she founded the Vegan Feminist Network, an academic-activist project engaging intersectional social justice praxis. She is the author of A Rational Approach to Animal Rights: Extensions in Abolitionist Theory (Palgrave MacMillan 2016).
Receive research updates straight to your inbox by subscribing to my newsletter.