By Michele Kaplan
Trigger Warning: Discussion of rape and racism; contains extremely offensive racist and ableist comments about Palestinians and Muslim culture.
Have you ever been in a situation where people wish you would just shut up?
It all began back on March 19th, when some vegans in my social media circle were talking about Gary Yourofsky's anti-Palestine rant. Naturally, those in the animal rights community (myself included) who support the plight of the Palestinian people, were horrified at what he said.
Who was this Gary Yourofsky? I heard his name here and there in various animal rights circles, but was not familiar with his contributions to the movement. I began to google his name and found out that this rant (that was just dripping with discrimination and privilege) was not a one time incident (not that that would've made what he said okay).
Gary Yourofsky, is a controversial and passionate figure in the animal rights community, with a history of on one hand, making powerful speeches that have inspired people to go vegan, and on the other hand making derogatory statements that have alienated people within and from the animal rights movement.
Such statements as his infamous quote (and you can read the full interview here):
Every woman ensconced in fur should endure a rape so vicious that it scars them forever.
As a vegan, as a woman and as a human being, I was shocked that he said this, and felt nothing short of disturbed (and a little less safe) when some people in the AR community made excuses for his behavior.
"Oh, that's such an old quote." they said, as if time makes it somehow untrue. Or as if he had since apologized for this statement, or changed his ways. He has not.
I felt heartbroken because I devoted so much time and love to the cause, and now I was questioning my future in it. I knew there was this old school (and not so intersectional) wave of AR activism and the next wave animal rights activism (which typically is very intersectional), so I didn't think that everyone would support the letter, but when some people in the next wave were making excuses, even though it was "only" a couple of people, it was incredibly disheartening.
The next morning, a small group (3 to be exact) got together and put out a statement to let the community (and internet) know that our veganism has zero room for discrimination and oppression of others.
A woman who was a survivor of rape came forward and said that reading this letter was very healing for her. Another person said "I've been stuck without support on making these points about him many times. So glad this exists to show other vegans feel the same way!" (and this sentiment was repeated by a number of people). And so for a moment in time, we felt like whatever happens, this was all worth while.
And then… the backlash kicked in.
"Why are you attacking Gary?"
"Why are you being so mean?"
"Gary does so much for the animals, why are you focusing on this?"
"I think the good outweighs the bad."
"Are you guys for real? … Premature April 1st joke? Trying to get an attention attacking Gary or just plain stupidity?"
"You're being really judgmental."
"So he made a mistake. We all make mistakes."
"You're taking things out of context!"
"He needs support, not stabbing in the back."
"He does not condone actual, literal rape in any circumstance. Do more research." (As if that was said in the statement? It wasn't. As if just talking about it was harmless and without consequence? It's not.)
It was incredibly confusing and draining. I mean what the hell is going on?
And then it dawned on me. Could this be a case of hero worship? Something that I have certainly done in the past.
I remember when I had heroes, and I heard something damaging or negative about them, I would get defensive and protective, because that was my hero. A symbol. Hope. Part of me needed to believe that a hero exists.
These days I do not have heroes, because to have heroes is to place someone on a pedestal. I admire people and their work. I appreciate them, but at the end of the day, we are on the same level. Human and human.
And I get it. Advocating for veganism and animal rights is going against a deep rooted social conditioning, where even though factory farms is one of the largest contributors to climate change, where even though the conditions in which the animals live are so horrific and unethical, it is the vegan diet, it is the idea of animal rights that is "extreme". And once you know the truth behind the animal agriculture industry, you can't un-know that. And knowing how much the animals suffer, if people don't take proper self care (which is not always promoted in the movement. "The killing doesn't take a break, so either will we!"), it can all get to you.
But does that justify discrimination in the movement? No. Furthermore, let us not forget that unless you were born vegan, there was a time, when you were not vegan either. So is it okay to advocate for violence against people (who were just like you) simply because they haven't un-learned the social conditioning at the same rate that you have?
At the end of the day, the statement that we put out there was not about attacking Gary for the mere sake of attacking someone. At the end of the day, it was about saying "No, just because a person is vegan does not give them a free license to discriminate against others (and without consequence), regardless of how revered they might be." At the end of the day, it is very dangerous, especially within an activist movement, when a person is placed so high on a pedestal, that they become untouchable and can do no wrong.
This essay originally appeared on Rebelwheels' Soapbox on April 21, 2015.
---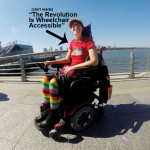 Michele Kaplan is a queer (read: bisexual), geek-proud, intersectional activist on wheels (read: motorized wheelchair), who tries to strike a balance between activism, creativity and self care, while trying to change the world.
Editor's Note:
Interested in learning more about the problems with hero worship in the Nonhuman Animal rights movement? Check out the work of Marti Kheel, co-founder of Feminist for Animal Rights. Some of her writings on this topic are hosted on the FAR website. Vegan Feminist Network has also written on this topic in regard to the celebration of male violence as vengeance. A number of Yourofsky's essays on violence and rape are also available on Negotiation is Over; please be warned, they are very crude and offensive.