I read Vegan Moon so you don't have to.
Trigger Warning: Abuse, racism, and sexual assault.Not Safe for Work: Contains graphic descriptions of non-consensual sexual encounters.

Note: If you've come to this post expecting romance fiction bashing, you've come to the wrong place. Romance fiction is important. Yup, that's right: romance fiction is important. In arts and academic circles it's a struggle to get this popular genre to be seen as anything other than some kind of fleeting triviality. Probably because it's a genre dominated by women and prioritises women's pleasure (both physical and emotional) and as we know, those things are "trivial". This is not a space to dismiss the romance genre.
I was curious to pick up the novella Vegan Moon as it has a vegan werewolf as the hero. But it didn't take me long to realise that this wasn't the fun, sizzling, romantic romp I'd been promised…
Vegan Moon is a cis-het paranormal romance novella by American author Kerri Nelson. The central themes are masculinity, flesh-consumption, control and animality. The story follows the perspectives of Santiago Salazar, a Venezuelan dog trainer and werewolf, and professional chef Gabrielle (Gabbi) Connor as they experience instant steamy attraction to one another. Santiago's plant based diet (there is no mention of veganism as an ethical system) is a source of conflict for the characters, along with the fact that Santiago is a werewolf.
The Hero and Heroine
Santiago is a werewolf who is struggling to control his urges for killing humans and part of his mechanism for control is his vegetarianism/veganism. Other examples of this trope are Munroe from Grimm as well as plenty of vegetarian vampires.
Santiago is described as a "a tall, dark mystery man… with pure lust in his eyes," and as "[t]he tall, dark creature".
The heroine of the story is Gabbi. She is described as "petite" and "blonde", and although it is unsaid, she is probably white. She has a successful career as a celebrity chef, but finds her personal life a little lacking.
I won't pretend to be an expert in race, but I think it is worth pointing out that constructing Santiago as "dark" and Venezuelan and as part animal in addition to making Gabbi as a pretty, petite, white woman, who spends a good chunk of the narrative afraid of Santiago, is problematic.
Veganism and Self Control
The novella's thesis is outlined in chapter one. The hero, Santiago, as a werewolf has killed and eaten humans in the past. However, ten years ago, Santiago killed a drug dealer whom he says "deserved" it. But Santiago had a bad experience:
[ . . . ] the man's blood was so full of chemicals that it had made Santiago sick for days. After that, he'd decided to turn over a new leaf…He'd become a practicing vegan with a new lease on life… Of course, since wolves were carnivores by nature, Santiago still had cravings that required serious impulse control management.
We learn a number of things about the premise:
Santiago's choice to go vegan has nothing to do with non human animals or systemic injustice
Santiago's choice is based on personal cleanliness
It is against Santiago's nature to not eat meat, therefore abstaining from it is a difficult exercise, showing him to be a strong-willed character.
The author has a foreword in which she explains her own desire and failure to go vegetarian (in the text, she uses vegetarian and vegan interchangeably):
I've always believed that I could be a vegetarian as I'm addicted to the crisp, delicious selection of produce that calls to me at the grocery story [sic]. However, there's apart [sic] of me that still craves the juicy taste of a well-prepared hamburger… I'll never truly be a vegetarian despite my best efforts.
Nelson then goes onto say that she wrote this novella while she was pregnant and explains how much food cravings, especially for the flesh of non human animals, took away her control when it came to food choices. (Now, I don't know what the food availability options are where Nelson lives, I can only go from what she says in the foreword. It may be the case that she lives in an area where a wide variety of plant based foods are not available all the time.)
Nelson has provided us with a tool to help readers construct one possible reading of her novella: Santiago can be read, in part, as an exploration of Nelson's own desires and struggles to go vegetarian. What both author and character have in common is that non human animals are missing from their reasons. Nelson in her foreword constructs vegetarianism as an addiction to produce and the ability to conquer cravings. For her character Santiago, it's all about overcoming and controlling his craving for human flesh.
It's worth noting that the hero's perspective in cis-het romance novels is never just a masculine perspective. There is a complicated interplay between author, cis-het hero, and reader. Not to mention how socially indoctrinated ideas about masculinity, identity and action inform the construction of the hero in cis-het romances.
Food and Arousal
After the our two main characters hit it off on a coffee date, Gabbi offers to cook Santiago dinner to show off her super fancy professional chef skills. She decides to make… pasta primavera (Note to any pro chefs looking to impress a vegan: that better be one heck of a pasta primavera).
Gabbi's cooking puts Santiago close to losing control of his "animal libido" and the sensations he feels remind him of "hunting" and "feasting on meat":
… all the scents of herbs and spices wafting around them, he could barely keep his animal libido in check.

He'd never known cooking and eating a meal could be this sexually stimulating. Well, he'd felt similar surges when hunting his prey and feasting on meat back in the day.
Food, killing and sexual arousal are all melded into one here, already we can predict the not-so-nice pathway that we're headed down.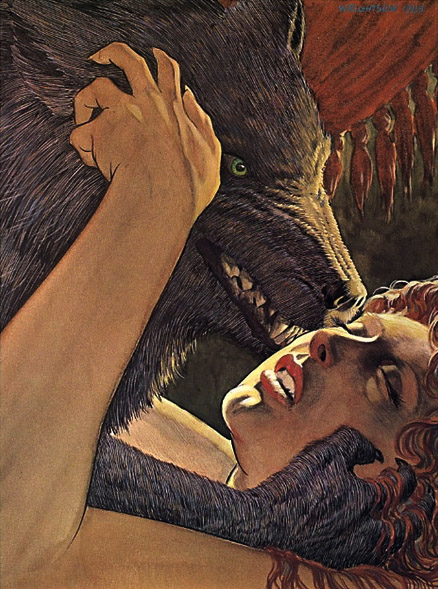 Consent, and Manipulation
Before we talk about the "sex" scene, there's a bit of information revealed later in the story that is, I think, required to frame the "sex" scene. Santiago says:
Now that we've mated, you'll continue to be drawn to me. You'll slowly start to lose your mind if you don't give in to the call. I'm sorry that this happened this way, but I'd like to help you. If you'll let me.
In theory, Santiago knows prior to "mating" (here meaning a sexual act – presumably penis in vagina because of the way our culture prioritises this type of sex act as being "legitimate") with Gabbi, that it will cause her harm: she will "lose her mind" if she doesn't stay with him. In addition, if Gabbi were to find out that Santiago was a werewolf:
Their species code required that they either kill or mate [stay with for life] with any human who discovered their existence.
Essentially after "mating" Gabbi's only option would be to stay with Santiago. If she finds out he's a werewolf, her only options are to stay with him for life (made contextually obvious later), or the werewolves will kill her. This prior knowledge of Santiago's makes all his actions suspicious. If he knows pursuing a romantic relationship with her might lead to "mating", which will then forcibly make her stay with him (which he doesn't tell her up front), that's downright manipulative. Communicating any possible bad outcomes for your potential sex partner to them is something that you should do, full stop.
On one level Santiago's inability to resist Gabbi, even knowing the harm it will cause her, both actual and potential, is also tied to the theme that animal flesh is irresistible (as seen in the foreword by the author). Neither Nelson nor Santiago seem aware/care about the harm their choices create and frame those choices in terms that remove their agency such as "addiction" and "craving".
This knowledge, that we only learn after the "sex" scene, makes the violence and abuse in the "sex" scene even more shocking. At one point, Santiago shoves Gabbi. Gabbi protests to being shoved, but he ignores her protests and continues without her consent: "his hand continued to stroke up the inside of her thigh…"
After he makes her orgasm through manual stimulation, he also does not seek any kind of consent before penetrating her, let alone put a condom on:
She felt dazed and confused in the aftermath of her passionate storm. She felt the cool night air on her ass as her panties were thrust downward, and then she gasped at the feel of his hard cock shoving into her from behind… He was almost too rough in his possession of her tender, swollen pussy, but she was so lost in the moment that she just submitted to the frenzy. As he drove inside her, she heard the wet sound of their carnal connection… She closed her eyes and tried to imagine what they must look like as they mated like animals.
A comparison of who is doing what in this scene shows that Santiago is described with physical actions: he removes her underwear, he penetrates her, he "possesses" her pussy, and he drives inside her. Gabbi is described in a primarily passive ways: she is dazed, confused, feels, gasps, submits, hears and closes her eyes.
Note: I know this is not really sex, it's assault. Also I know condoms and other safe practices aren't "trendy" in romance novels, but it still pisses me off when I see it, because c'mon writers, you're a creative bunch; make safe sex sexy.
Craving and Abuse
As if to emphasise the twin themes of craving and abuse, afterwards Gabbi observes Santiago's personality change:
She shivered at the now delicate touch. It was in such complete contrast to the rough way that they'd just had sex. This man was an absolute mystery.
The "craving" for flesh has been satisfied. As it often is with domestic abuse: "The abuser's 'good side' can give victims reason to think their partner is capable of being nurturing, kind, and nonviolent."
After what the author calls "sex", what can go wrong, does go wrong: Gabbi sees Santiago transform into a wolf. It of course totally freaks her out. As we already know, this means one of two things for Gabbi; either become his mate – i.e. stay with him for life – or the werewolves will kill her. She, however, doesn't know these are her only options denies his phone calls and refuses to see him, even briefly thinking that he may have drugged her. She holes herself up away from him and spends time in hiding.
The werewolf council (there's always a bloody council!) find out that Gabbi has seen Santiago transform into a werewolf, therefore steps must be taken to either make her be Santiago's mate for life or kill her. Santiago seems remorseful about this fact:
He ached for the pain that he'd caused Gabbi, and he didn't know how he'd go on living day to day as if he'd never met her… never touched her… never possessed her body and made her his own.
But Santiago's remorse has virtually nothing to do with Gabbi, but himself. This is especially true of the phrase "possessed her body and made her his own". This verbally echoes Gabbi's observation that he "possessed" her pussy. She is not an agent, she is a thing to be possessed.
The werewolf council send Santiago's friend, Tenny, to assess Gabbi's suitability as a "mate" for Santiago. During this time, Tenny manages to convince Gabbi that she should stop being scared of Santiago and become his mate. We never see how or why she changes her mind. This is highly suspicious and once again shows that Gabbi's agency is not important.
At the end of the novella Gabbi's only reservation about everything that has happened is:
We've got to talk about this vegetarian thing.
Nelson's construction of Santiago as a foil for her own relationship with animal flesh foods manifests as an abusive man who disregards Gabbi as an agent in her own right. Even Nelson's construction of Gabbi is mostly passive to Santiago's physical onslaught. The world building choices that Nelson has created makes Santiago into an abusive figure – he knows prior to any kind of sexual activity that Gabbi has to stay with him or else she will "go mad". It's difficult to excuse his behaviour in light of this. Thinly, the author suggests that Gabbi is probably his "soul mate", but this is grossly inadequate.
There are a few things I think are worth highlighting in light of this novella: firstly, that even men who identify as "vegan" can be abusers; secondly, that the author constructs a world and characters where manipulation and abuse are considered okay in the pursuit of desire; and finally that the author believes abstaining from animal products is an act of immense control tying into how the abuse in the novel is symptomatic of the author's view that cravings for animals' flesh can't be helped.
It was disappointing to see abuse and assault in this novella presented as sexy and desirable. It was also disappointing to see veganism misconstrued. It would have been nice for this to be a fun, romantic romp with a non abusive vegan hero, but alas, Vegan Moon did not deliver on that front.