Trigger Warning: Graphic descriptions of rape and violence against women.
On a public walkway, women are gathered around.  One woman cradles her baby. Suddenly a gang of men dressed in black with ski masks grab her. They pull her child away, place the baby in a crate, and she screams and cries for her child. The assailants rip open her blouse, exposing her breasts. She is beaten, pulled by the hair, and a man forcibly clamps a breast pump to her nipple. She screams in agony, blood pours from her breast. When they are finished milking her, they beat her about the head, tie a lead to her neck, and drag her to a waiting van, where she is dumped inside.
This assault (what Nonhuman Animal rights organization 269 Life describes as a "performance") is currently hosted on Youtube (not linked to here because it basically amounts to rape porn). As of this writing, it has over 36,000 views. The top comments are:
Stop it boner!
And
Nice tits!
One commenter requested they go further and actually rape, maim, kill, dismember, and cannibalize her:
LOL! Great! Keep doing this so people can see how radical vegans really are. Why stop at branding and milking? Seems kinda wimpy to not go all the way. C'mon, 269, you can do better than this. Let's see impregnation! Spaying! Neutering! Euthanasia! How about butchering! Fire up the grill along side the branding iron. A video of you radical vegans chomping on some human steaks would really prove how sincere you are about animals being equal to humans.
But 269 Life reassures us that the message we should be gleaning is that dairy consumption is immoral and exploitative.  Really? Because all I got from watching this video was sick to my stomach, fearful for my life, and flash backs to my own experience with rape and male violence. As for the male viewers, they were apparently turned on and hungry for more.
Dairy farmers do not dress in black with ski masks and dump their victims in vans, the stereotypical rapist does that.  269 Life uses the language of human female rape and murder to tell a story about cow rape and murder.  While there are certainly similarities, 269 Life has botched this job big time.  By the way, the infant used in the rape demonstration was real.  Exposing a baby to this violence, staged or not, qualifies as child abuse.
Incidentally, this group also hosted another street demonstration where three white men were chained and branded with a hot iron.  As with the white woman who was forcibly separated from her child and beaten by her owners, these branded men in chains draw on a history of human slavery.  There's something disturbing about white skinned activists from a mostly white organization reenacting a history of racial oppression while simultaneously failing to acknowledge it in their narrative.
In another street demonstration, this time against foie gras (the diseased livers of ducks who are force fed sometimes to the point that their esophagus or stomach ruptures before they are even slaughtered), a male activist forcibly holds down the head of a young woman. Her face shows terror, his shows violent determination. Her hands are bound and a feeding tube is forced into her mouth.  The imagery is, not by coincidence, drawing on the popularity of "gagging" gonzo porn.  Watching a woman gag on a penis, or feeding tube, whichever, is supposed to be sexy . . . especially if she is hurting and humiliated.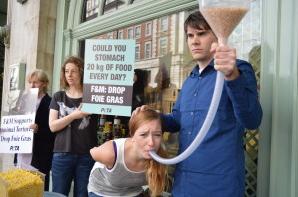 In another demonstration by the Vancouver Orphan Kitten Rescue Association, a parade float that is intended to "raise awareness" for homeless kittens is one big mobile strip joint. Nearly naked women writhe and flip on stripper poles down the street. Somewhere in the crowd of nearly naked women, you can make out a sign that pictures a kitten in need. One commenter writes: "Nice pussies."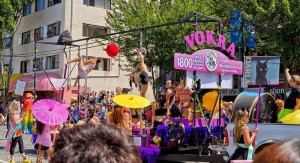 Some third wave feminists hail stripping as "empowering," but for less privileged women who live the reality of sex work, there is nothing glamorous or liberating about stripping at all.  The profession has extraordinarily high rates of sexual assault, rape, and pimping.
Animal rights activism draws on very real violence against women, children, and people of color, aggravating it, normalizing it, and sexualizing it.  It's clear from the public reaction, their intention to help Nonhuman Animals is getting completely obscured.  Instead of alleviating violence and suffering, they aggravate it.
---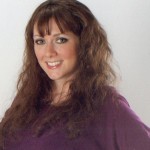 Dr. Wrenn is Lecturer of Sociology. She received her Ph.D. in Sociology with Colorado State University in 2016. She received her M.S. in Sociology in 2008 and her B.A. in Political Science in 2005, both from Virginia Tech. She was awarded Exemplary Diversity Scholar, 2016 by the University of Michigan's National Center for Institutional Diversity. She served as council member with the American Sociological Association's Animals & Society section (2013-2016) and was elected Chair in 2018. She serves as Book Review Editor to Society & Animals and has contributed to the Human-Animal Studies Images and Cinema blogs for the Animals and Society Institute. She has been published in several peer-reviewed academic journals including the Journal of Gender Studies, Feminist Media Studies, Disability & Society, Food, Culture & Society, and Society & Animals. In July 2013, she founded the Vegan Feminist Network, an academic-activist project engaging intersectional social justice praxis. She is the author of A Rational Approach to Animal Rights: Extensions in Abolitionist Theory (Palgrave MacMillan 2016).
Receive research updates straight to your inbox by subscribing to my newsletter.