Content Warning:  Discute de pornographie et de sexisme
Not Safe for Work:  Contient du langage grossier et des sujets explicitement sexuels
Translation by Christophe Hendrickx. See more French translations of critical vegan essays by grassroots activists by visiting his blog, La Pilule Rouge. The original English version of this essay can be found by clicking here.
By Corey Lee Wrenn, M.S., A.B.D. Ph.D.
PETA a posté sur Vegan Feminist Network aujourd'hui en réponse à mon article qui déconstruit leur campagne « Veggie Love Casting » . La campagne dépeint des jeunes femmes en bikinis et hauts talons effectuant du sexe oral et autres actes sexuels sur des légumes « pour les animaux ». Le communiqué est reproduit ci-dessous. J'ai mis en évidence les passages problématiques et les analyserait plus bas.
Les femmes intelligentes et sensibles qui ont participé dans ce clip ont choisi de le faire car elles soutenaient l'idée et voulaient agir pour aider les animaux. PETA les admire pour cela et ne leur dirait jamais qu'elles doivent se comporter d'une certaine manière afin d'avoir l'approbation de quelqu'un d'autre. PETA applaudit tout ce que les gens font pour aider les animaux et tente de montrer quelque chose qui plaise à tout le monde.

Tout le monde n'approuve pas les tactiques de PETA – et on peut choisir de ne pas montrer nos vidéos si c'est le cas – mais nous serons certainement tous d'accord pour dire qu'il est plus efficace de concentrer notre temps et notre énergie sur les abuseurs d'animaux plutôt que de nous chamailler.

Si vous souhaitez en apprendre plus sur les autres campagnes de PETA, ou visionner nos publicités comprenant des hommes, vous pouvez visiter le site www.PETA.org. Merci encore pour tout ce que vous faites pour promouvoir le véganisme et pour faire de ce monde un meilleur endroit pour les animaux. 

PETA déclare ne pas avoir dit aux femmes d'agir de cette manière, mais c'est une justification malhonnête. De toute évidence, PETA a mis au point la campagne et a engagé les participantes. Ce n'était pas un mouvement populaire spontané pour la promotion du sexe avec des légumes pour les animaux non-humains. En parlant de cela, est-ce qu'avoir une relation sexuelle avec des concombres ce que sont supposées faire les femmes si elles veulent aider les animaux ?
D'une certaine manière, PETA a raison de dire qu'on ne « dit » pas aux femmes d'agir de cette manière. C'est parce que PETA normalise le militantisme sexiste comme militantisme adapté aux femmes. Les militantes s'engagent de plus en plus dans le mouvement pour les droits des animaux avec la connaissance de ce qu'on attend d'elles (Gail Dines désigne ce phénomène de socialisation comme « prête au porno »). Les campagnes pornifiées sont aujourd'hui normalisées dans l'imaginaire politique du mouvement. Elles sont considérées pour acquises comme étant utiles, malgré la recherche psychologique sociale démontrant que ce n'est non seulement pas efficace, mais également contre-productif.
Les tropes incorporées dans la réponse de PETA visent à protéger cette normalité et méritent donc qu'on s'y penche.
1. Choix
Le "Choix" est un concept qui fonctionne généralement pour détourner l'attention sur le problème de l'inégalité structurelle et qui place la responsabilité sur l'individu·e. Il masque les privilèges et renforces l'oppression.
Les femmes « choisissent » de travailler dans le porno car une société patriarcale leur offre des options extrêmement limitées. Les femmes font ce « choix » car elles grandissent dans une société qui leur inculque que leur valeur est liée à leur attractivité sexuelle et leur disponibilité sexuelle (au contraire des hommes à qui on enseigne qu'ils peuvent réussir grâce à leur force, leur leadership, leur intelligence, leur esprit, etc.).
La plupart des actrices porno proviennent de milieux défavorisés et/ou de foyers violents et ont des carrières extrêmement courtes (environ 3 ans, une durée qui a fortement diminuée). La grande majorité des actrices porno gagnent très peu d'argent. Nous parlons ici de quelques centaines d'euros pour chaque film, avec une proposition de film toutes les quelques semaines environ. Une fois qu'elles ont « tout fait », elles sont usées, et n'ont plus d'utilité pour l'industrie. Ça vous dit quelque chose ? C'est exactement la manière dont les humains traitent les poules pondeuses et les vaches laitières : comme des ressources sexuelles périssables. Les femmes continuent à consentir d'effectuer des actes sexuels de plus en plus dégradants, douloureux, ou dangereux afin de rester dans la course le plus longtemps possible. L'industrie expose les femmes à ces conditions de travail précaires et dangereuses sans aucune sécurité garantie. Si c'est là le « choix » qu'ont les femmes, il y a quelque chose qui cloche réellement avec notre système de travail.
Je ne blâme pas ces actrices (militantes?) qui travaillent pour PETA. Elles font juste leur travail, et essayent de gagner leur vie. Certaines se sont peut-être même amusées et ont aimé participer. Au lieu de cela, je blâme le patriarcat qui élève les femmes comme ressources pour les hommes. Je blâme un mouvement social qui est supposé être basé sur la paix mais qui à la place exploite les vulnérabilités des femmes pour la levée de fonds. Sous le patriarcat, les règles du jeu penchent en faveur des hommes au détriment des femmes (et des autres populations vulnérables, dont les animaux non-humains). Toutes les femmes sont des produits d'un patriarcat qui les incite à croire : « Votre valeur sociale = Votre disponibilité sexuelle ».
Le "choix" s'appuie sur un ensemble très restreint d'options définies pour les femmes par le patriarcat. Si nous voulons avoir une discussion sérieuse sur le « choix », je suggère que nous obtenions une réponse claire de PETA quant à leur choix intentionnel de femmes pour la levée de fonds et l'attention des médias, et la raison pour laquelle des femmes sont placées disproportionnellement dans des scénarios dégradants, souvent (même si pas dans ce cas-ci) en simulant la souffrance et la mort horrible d'animaux non-humains. Comme dans toute pornographie, les campagnes de PETA sexualisent l'humiliation et la violence envers les femmes.
2. Viser un large public
Les personnes susceptibles d'être attirées par la pornographie ne seront probablement pas intéressées de s'investir sérieusement dans la justice sociale. La pornographie consolide l'oppression et renforce la notion que certaines personnes sont des objets de ressources pour d'autres, plus privilégiées. C'est loin d'être le genre de structure qu'on est en droit d'attendre pour remettre en cause le spécisme. Pour rappel, la recherche démontre que les campagnes de PETA repoussent en réalité les téléspectateurs qui peuvent aisément reconnaître que les femmes sont rabaissées.
3. Critique de la culture du viol comme de la « Chamaillerie »
Une femme sur 3 sera violée, battue, ou abusée d'une certaine manière une fois au cours de sa vie. Cette violence est fortement liée aux médias misogynes, et PETA non seulement crée mais promeut les médias misogynes. Décrire la critique féministe de cette violence systémique comme étant de la chamaillerie est insultant et banalisant. Faire front contre la violence que j'endure, contre la violence que des millions de femmes endurent, n'est pas de la chamaillerie, c'est de la justice sociale en action.
4. Hommes contre Femmes
Nous ne vivons pas dans une société post-genre/post-féministe. Les corps des hommes et des femmes ne sont pas vus ou traités de manière égale. On ne peut pas simplement déclarer : « Nous utilisons aussi des hommes ! ». Ca ne compensera pas la misogynie utilisée dans la majorité des actions de PETA. 96% de l'objectification sexuelle présente dans les médias inclut des femmes. Les femmes sont également bien plus susceptibles d'être victimes de viol, d'abus sexuels et de violence conjugale. Il est injuste de balayer les représentations sexistes des femmes juste parce que le corps d'un homme est utilisé de temps à autre.
Cet argument est particulièrement absurde dans le cas de PETA. Les publicités de PETA mettant en scène des hommes représentent dans l'ensemble des hommes qui sont aux commandes de leur espace social, et leur pouvoir ainsi que leur statut sont renforcés. Certaines de leurs affiches représentent des hommes ridicules. A nouveau, il n'y a aucun sexisme sérieux en jeu. Nous trouvons ces affiches idiotes car les hommes sont rarement objectifiés sexuellement et représentés dans une position soumise. Les hommes ne sont pas affichés dans des positions sexuelles soumises ou comme victimes de violence, seules les femmes le sont.
Prenez par exemple cette image d'un acteur de Bollywood militant pour PETA. Remarquez le regard confiant face à l'objectif, son pouvoir sur la situation, et sa capacité de contrôle l'espace autour de lui et de créer du changement. Remarquez cette posture qui affiche la confiance.
En revanche, examinez cette affiche typique de PETA représentant une femme nue. Elle est montrée dans une position soumise, vulnérable, pas sur ses pieds, à la merci du téléspectateur. Ses yeux ne font pas directement face à l'objectif, mais le regarde au contraire par le bas. Elle caresse doucement le lapin; il n'y a pas de contrôle sur son espace. Ses fesses sont relevées pour suggérer la disponibilité sexuelle.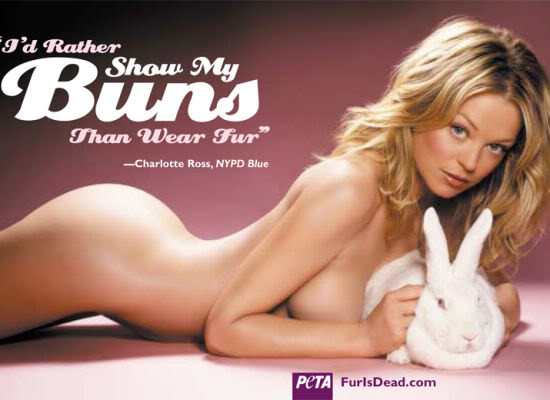 L'argument que le sexisme n'existe pas dans les campagnes de PETA car des hommes nus sont aussi utilisés de temps en temps est un leurre.
Nous ne pouvons pas mettre fin à l'objectification des animaux non-humains par l'objectification des femmes. Nous ne pouvons pas mettre fin à la violence envers les animaux non-humains par la violence envers les femmes. Il est temps de décoloniser le schema militant.
Les informations fournies sur l'industrie de la pornographie dans cet essai sont tirées du documentaire, The Price of Pleasure.
Ms. Wrenn is the founder of Vegan Feminist Network and also operates The Academic Abolitionist Vegan. She is an instructor of Sociology and graduate student at Colorado State University, council member with the Animals & Society Section of the American Sociological Association, and an advisory board member with the International Network for Social Studies on Vegetarianism and Veganism with the University of Vienna. In 2015, she was awarded Exemplary Diversity Scholar by the University of Michigan's National Center for Institutional Diversity. She is the author of A Rational Approach to Animal Rights: Extensions in Abolitionist Theory.